Ginger and Pineapple Butterscotch Cake
There is not much to say about this cake apart from the fact that it is super amazing, exceeded my expectations, and was impossible to stop eating.
I do like pineapple but its not one of my favorite flavors, thus it's no surprise I have not baked recently where pineapple is the ingredient hero. As a result I decided it was about time.
After taste testing a few flavour combos with pineapple I decided that the ginger and butterscotch (I know bazaar combo) was my favorite and would be the base of a cake.
This sweet treat is easy peasy to bake that delivers a result that will impress. The texture is pudding like and the butterscotch 'icing' is the perfect complement on the pineapple and ginger pairing.
Ingredients:
Cake:
125g butter
110g brown sugar
1 tsn vanilla essence
2 eggs
150g flour
2 tsn baking powder
¼ tsn bi carbonate of soda
2 + ½ tsn ground ginger
80ml milk
360g finely diced pineapple
Butterscotch:
65g butter
65g brown sugar
1 tsn ground ginger
Method:
Pre-heat the oven to 180c degrees and line a 23cm baking tin with baking paper.
Using electric beaters beat the butter, sugar and vanilla in a bowl for 5 minutes or until light and creamy.
Add the eggs one at a time, beating in between each addition.
In another bowl sift the flour, baking powder, bi carb and ginger. Mix to combine.
Add the drained pineapple pieces to the flour and mix until the flour coats the pineapple.
Add the flour mix as well as the milk to the butter mix and beat with electric beaters unit just combine.
Pour the batter into the cake tin and flatten the top with the back of a spoon.
Bake in the oven for 25 minutes or until a skewer inserted in the cake comes out clean.
In the interim, make the butterscotch by placing the butter, sugar, ginger and 40ml of water in a saucepan on a hot stove and stir until the sugar has melted.
Allow the mix to boil on medium heat for 5 minutes or until the Butterscotch has thickened.
Once the cake is cool using a skewer poke holes in the top of the cake.
Pour the butterscotch and allow the cake to soak up the liquid evenly.
Once the cake has cooled completely remove from the cake tin and place on a plate to serve.
Notes:
1 x 845g can of pineapple pieces in juice will easily cover the amount of pineapple you will need for this cake.
I have decorated the cake by placing the left over pineapple in the oven on low for an hour to dry them out as well as a dust of icing sugar.
Ingredients
Step 3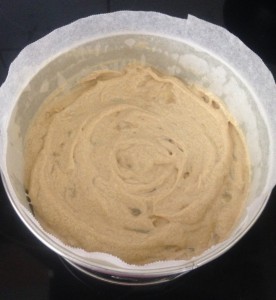 Step 7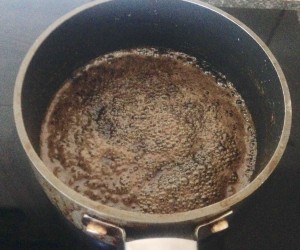 Step 10
Like this recipe? Subscribe via RSS or email to get my new entries and more scrumptious recipes with reviews.