Lavender and Lemon Cheesecake
So for a while now I have been super interested in baking with lavender. I have heard many stories how it's a tricky ingredient that can be ever so overpowering to the point where it tastes like your eating soap or perfume.
I figured if I baked a cake with lavender I would need another ingredient that also has a strong flavour so they could complement each other.
After doing some research I came across many cake variations featuring lavender and almond, lavender and lemon, lavender fairy cakes, even lavender and blueberry. However these were all cupcakes or cakes…this got me thinking…introducing my Lavender and Lemon Cheesecake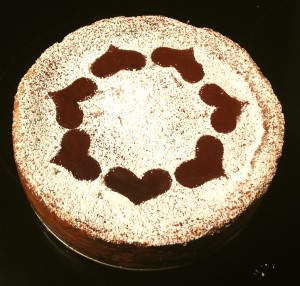 Ingredients:
250g plain sweet biscuits (I used Nice)
150g butter
100g sugar
1 tbsn edible lavender
3 tbsn cornflour
750g cream cheese
2 eggs
100ml double cream
1 lemon (for ¾ of the zest)
4 drops purple food colouring
Method:
Grease and line a 24cm spring-form cake tin and preheat the oven to 180c.
In a food processor process the biscuits until fine. Melt the butter and mix with the biscuits.
Press the mix into the tin and cook for 10 mins or until slightly golden.
Place the base aside to cool and turn the oven up to 200c.
Place the sugar and lavender in the food processor and process until the lavender is fine like the sugar.
Combine the lavender sugar, cornflour and cream cheese in a bowl and beat with an electric beaters until smooth and creamy.
Add the eggs one at a time, beating well in between each addition.
Add the cream, zest and food coloring, beat until smooth.
Pour the mix in the tin and with a spoon smooth the top – bake for 40 mins or until the top is brown.
Remove from the oven and let the cake cool. Now place in the fridge for 3 hours to set.
Notes:
I have decorated with a sprinkle of icing sugar.
You can use full fat thickened cream instead of double cream if you cannot find double cream.
Like this recipe? Subscribe via RSS or email to get my new entries and more scrumptious recipes with reviews.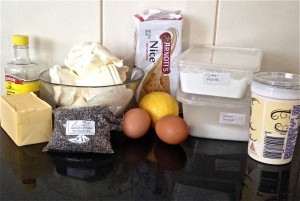 Ingredients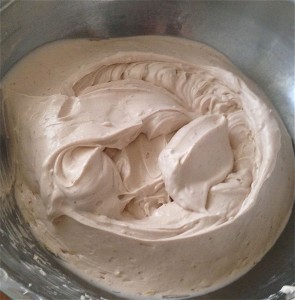 Step 7
Step 4
Step 10