Pineapple Lime and Coconut Tapioca Pudding

I have done quite a few experiments with tapioca/sago with a varying range of results. To be completely honest 90% of the time the end result is disappointing, bland and needs more sweetness.
This recipe's success was a major surprise. The flavors of coconut, lime, ginger and pineapple all make perfect sense to be combine into a lovely treat, though it's the caramel sauce made with coconut milk and a slight tang of lime juice that really steals the show. This little addition brings the recipe to a new level and makes the dessert so moreish.
Ingredients:
400g coconut cream
625ml coconut milk
40g white sugar
100g tapioca pearls
110g brown sugar
300g pineapple
1+ ½ tsn ground ginger
4 tsn lime juice
30g desiccated/shaved coconut, toasted
Method:
Place the coconut milk, 200ml coconut cream and white sugar into a saucepan and stir on a high heat until the sugar is dissolved and the mix is boiling.
Add the tapioca and bring the recipe down to a simmer and cook for 25 minutes stirring frequently until mix thickens and the pearls are transparent with a white dot in the center.
Pour the mix into a bowl and leave aside to cool.
Meanwhile to make the sauce place the remaining 200ml of the coconut cream and the brown sugar into a saucepan and stir on a high heat until well combine and the sugar is dissolved.
Add the pieced pineapple, the ground ginger and the lime juice and stir for 3 minutes or until the mix thickens to a caramel consistency.
Take the saucepan off the heat and leave aside to cool.
Spoon half of the sauce and pineapple into the base of 6 cup ramekins.
Spoon the tapioca mix into the 6 ramekins evenly.
Top with the remaining sauce and pineapple.
Sprinkle with the toasted coconut.
Place in the fridge for 1 hour to set completely.
Notes:
I have topped with some pomegranate for some extra colour.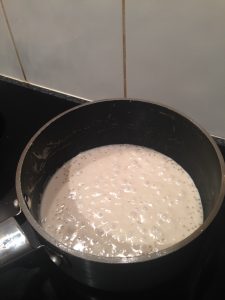 Step 2
Step 4
Step 5
Step 8
Step 11
Like this recipe? Subscribe via RSS or email to get my new entries and more scrumptious recipes with reviews.