Beetroot Raspberry and Balsamic Cake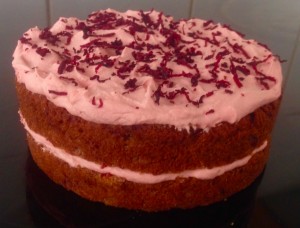 This cake was another challenge that was given to me by a chef friend a while ago now. I for a while had strawberries and balsamic vinegar on my radar for a cake to bake one day. However, when given the challenge of creating a cake with beetroot, raspberry and balsamic vinegar, well this was a much more exciting pairing than my Strawberries and Balsamic idea.
I did make this up on the fly (originally I was going to do a balsamic vinegarette syrup for the top), but I must say making this up as I went along and deciding it needed cream and not a syrup was a very smart idea.
Im not a massive fan of cream, however after making this I became addicted to the balsamic cream, therefore cementing the inclusion of cream over another topping option.
Outcome, light fluffy, beetroot and balsamic flavorsome with a raspberry aftertaste.
Ingredients:
Cake:
150g butter
170g brown sugar
1 egg
1 tsn vanilla essence
280g self raising flour
1 tsn baking powder
½ tsn bicarbonate of soda
180g grated beetroot
170g raspberries
50ml milk
Icing:
300ml thickened cream
5 tbsn icing sugar
4 tsn balsamic vinegar
Few drops of red food coloring (optional)
Method:
Pre-heat the oven to 180c degrees and line a 23cm baking tin with baking paper.
Place the butter and sugar in a bowl and beat with electric beaters until the mix is light and fluffy.
Add the egg and vanilla essence, once at a time beating in each addition and until combine.
Squeeze the grated beetroot of excess liquid then place in the bowl with the butter mix (you will loose 60ml of liquid).
Using a food processor process the raspberries and place into the bowl.
Add the milk.
Sift in the flour, powder and soda into the bowl.
With a wooden spoon stir the ingredients until well combined.
Pour the batter into the cake tin and bake in the oven for 45 minutes or until a skewer inserted into the center of the cake comes out clean.
Place the cake on a cooling rack to cool.
Meanwhile to make the topping place the cream, sugar, balsamic vinegar and coloring in a bowl and using electric beaters beat until peaks form.
Cut the cake in half horizontally and spread half the cream on the cut side of the bottom later.
Top with the second layer cut side down and spread with the remaining cream mix.
Step 4
Step 5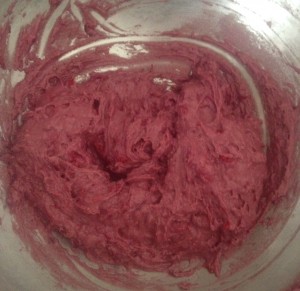 Step 8
Step 10
Step 10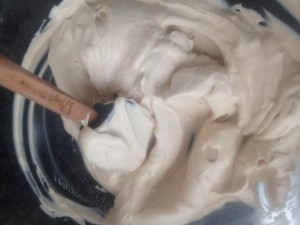 Step 11
Step 12
Step 12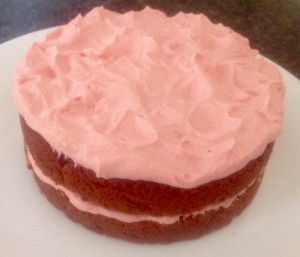 Step 13
Like this recipe? Subscribe via RSS or email to get my new entries and more scrumptious recipes with reviews.