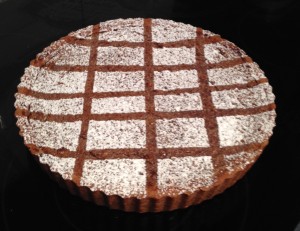 Orange Lemon and Chocolate Cannoli Tart
I have this absolutely awesome Cannoli recipe where I usually cheat and buy the Cannoli shells from my Italian grocery down the road. I buy the shells as I'm not a fan of deep frying food and to be honest try to opt for the more healthier versions of sweets if I can.
Now, my Italian grocery has recently been taken over and I don't like my chances of being able to get my hands on the usual traditional Italian products I have in the past. So I had a though…What would happen if I tried to make my awesome Cannoli's in a tart instead of the fried shells?
Sweet pastry is quite simple to make (especially if you have a food processor) therefore by turning my Cannoli's into a tart I won't have to deep fry or make my own shells.
The outcome – This by far would have to be one of the best sweets I have made in a long time. The only difference from my Cannoli recipe is I added an egg and baked this version and OMG I had people telling me how much they adored my tart that had never commented on my baking before.
Ingredients:
Pastry
2 cups flour
½ cup white sugar
½ tsn salt
2 tsn cocoa powder
100g butter
1 egg
1 tbns milk
Filling
375g ricotta
165g icing sugar
1 egg
I lemon
1 orange
100g 70% cocoa dark chocolate
Method:
Pre-heat the oven to 175c and spray a tart tin with oil.
Place the flour, sugar, salt and cocoa powder into a food processor and pulse a few times to mix.
Dice the butter into small pieces and process until combined.
Add the egg and milk and process until combined.
Wash hands and turn dough out into a ball onto baking paper.
Using a rolling pin roll the dough into a circle shape and place into the tart tin and place tin into the fridge for 20 mins.
Place the ricotta, egg and icing sugar into a bowl.
Grate the chocolate, orange zest and lemon zest into the bowl.
Stir until all ingredients are combined well.
Spoon the mix into the tart tin and smooth the top.
Place into the oven and cook for 25 mins or until the party is browned and the filling has puffed up a bit.
Once cooked let the tart cook before removing from tin.
Notes:
If you don't have a food processor combine flour, sugar, salt, cocoa ponder and diced butter in a bowl. Rub butter with dry ingredients until it resembles breadcrumbs. With your hands mix in the egg and milk until the dough is formed.
Ingredients
Step 5
Step 6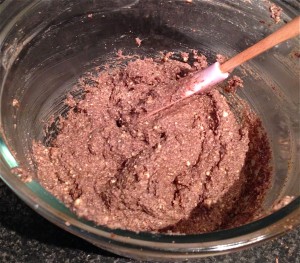 Step 9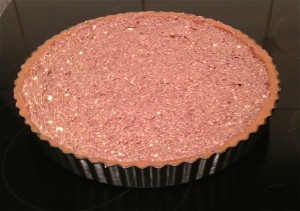 Step 10
Like this recipe? Subscribe via RSS or email to get my new entries and more scrumptious recipes with reviews.