Chickpea Chocolate Coconut and Almond Cookies
I've made chickpea chocolate cake in the past, chocolate coconut slice, almond and chocolate cake, coconut and almond cupcakes….however I have never mixed these 4 flavors together. As they all taste like a dream with chocolate I thought there could be a combo potential.
So I decided to do some experimenting with these 4 flavors with biscuit variations. I looked at using butter vs. coconut oil, coconut flour vs. almond meal vs. rice flour, cocoa powder vs. chocolate, nil-chocolate biscuit dough, double chocolate biscuit varieties and the list goes on….
Suffice to say I made a few different batches that were slightly altered from the last.
This recipe I'm posting is the hands down winner. All flavors come out spectacularly. Even with the 'gluten free' component and legume inclusion they don't taste 'cardboard' as some healthier versions of baking sometimes do.
So simple to make, literally throwing ingredients into a food processor and bake for 15 minutes and boom delicious biscuits at once!
Ingredients:
230g chickpeas (1 x 400g can, drained)
100g almond meal
100g brown sugar
40g coconut oil
1 tsn almond extract
1 egg
½ tsn baking powder
1/8th tsn salt
40g desiccated coconut
80g roasted almonds
80g 70% dark chocolate, 80g extra
Method:
Pre-heat the oven to 180c degrees and line 2 large baking trays with baking paper.
Place the drained chickpeas, sugar, oil, extract and egg into a food processor and blitz until smooth.
Dice the 80g chocolate and 80g almonds into small pieces.
Place the almond meal, baking powder, salt, coconut, diced chocolate and diced almonds into a bowl and stir until well combine.
Add the chickpea mix to the dry mix and stir until well combine.
Roll the dough mix into 20g sized balls and flatten well with the back of a fork onto the trays. Note they will not rise so you will want to flatten well.
Place the trays into the oven for 15 minutes to cook.
Allow the biscuits to set on the trays then move to a cooling rack until cooled.
Meanwhile place the remaining extra 80g chocolate into a shallow microwave proof bowl and heat in the microwave on medium, stirring every 30 seconds until the chocolate is melted and smooth.
Using a butter knife or spatula spread the melted smooth chocolate onto the bottom of the biscuit in a thin even layer.
Place biscuits chocolate side up onto the cooling tray until chocolate has set.
Enjoy!
Step 2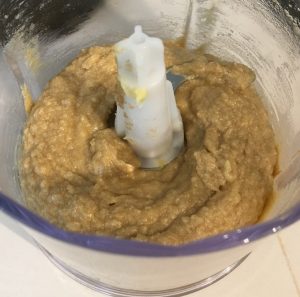 Step 2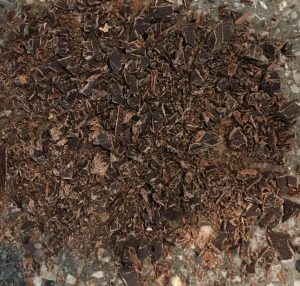 Step 3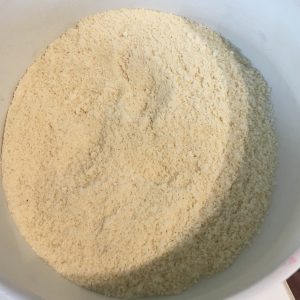 Step 4
Step 5
Step 7
Step 10
Like this recipe? Subscribe via RSS or email to get my new entries and more scrumptious recipes with reviews.