Cordial Cake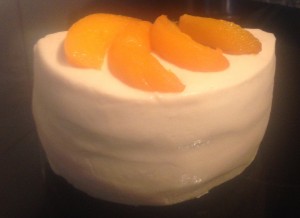 You may recall that I have opted for some interesting flavour enhancers in the past that range from using Jelly to Red Skins to Coca-Cola.
One thing I realized that would add a pack of flavour that I am yet to explore is cordial.
For something different I ventured through my supermarket to find a cordial flavour that would be unusual and provide a flavour hit that I have not yet posted previously on.
99% of the cordials in the market are the stock standard…lime & lemon, orange & mango, raspberry & apple, blackcurrant… however I did come across a Peach Iced Tea flavour cordial. Peach is one ingredient that I haven't yet made a recipe post on (its hard to get this flavour at a robust level to be the hero flavour of a recipe).
Therefore make up a recipe for a Peach iced tea cordial cake I did and after a bit of trial and finessing the goods were delivered.
Cake:
80g butter
200g sugar
3 eggs
1 tsn vanilla
160ml peach iced tea cordial
220ml milk
290g flour
1 tsn baking powder
½ tsn bi carbonate of soda
½ tsn salt
Icing:
40g butter
360g icing sugar
80ml peach iced tea cordial
Method:
Pre-heat oven to 175c degrees and line a 25cm cake tin with baking paper.
Using electric beaters beat the butter and sugar until light and fluffy.
Add the eggs one at a time, beating in-between each addition.
Add the vanilla and beat until combine.
In a bowl mix the milk and cordial.
In a separate bowl combine the flour, powder, soda and salt.
On a low spread beat the milk mix and the dry mix in alternation until just combine.
Pour the mix into the cake tin and bake for 35 minutes of until a skewer inserted in the middle comes out clean.
To make the icing beat the ingredients with electric whisk until light and fluffy.
Once the cake is cooked leave in the tin for 5 minutes then transfer onto a cooling rack.
Cut the cake in half horizontally and spread the icing on top of both cake layers.
Place one layer on top of the other and enjoy!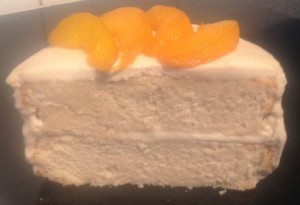 Step 12
Like this recipe? Subscribe via RSS or email to get my new entries and more scrumptious recipes with reviews.