Cheats Dulce Leche Cake

So this cake doesn't feature my usual unique, weird flavour combinations, nor is it a traditional cherished sweet treat. However, it makes it to my website as it has taken me 8 attempts of varying caramel cake recipes to make the ultimate and it's this one by a mile that is the most amazingly tasting, simple and successful cake you will come across. I ended up doing a little cheating with this one by using nestle Caramel (instead of making my own caramel), which took out a massive time consuming step. This cake  bakes to perfection, has a beautiful rise that allows for multiple layers of cake and tastes AMAZING!
Ingredients:
Cake:
200g butter
340g sugar
2 tsn vanilla essence
4 eggs
2 egg whites
320g flour
260g cream
Frosting:
180g butter
180 icing sugar
2 tsn vanilla essence
1 + ½ tbsn cream
Caramel:
Method:
Pre-heat the oven to 180c degrees and line a 25cm cake tin with baking paper.
Place the butter and sugar in a bowl and using electric beaters whisk until creamy and thick.
Add the vanilla and beat for 2 minutes.
Separate the eggs and beat in the 4 yolks until thick and creamy.
Add the flour and the cream and beat until just combine.
Place the separated egg whites with 2 additional egg whites into a bowl and beat with electric beaters until peaks form.
Fold ¼ of the egg whites into the butter batter to release it.
Add the remaining egg whites and fold until just combine.
Spoon the mix into the cake tin and bake for 40 minutes or until a skewer inserted in the center comes out clean.
Place on a cake rack to cool.
To make the icing place the ingredients in a bowl and beat with electric beaters until creamy and thick.
Leave icing aside for later use.
Beat the caramel with electric beaters until smooth.
Cut the cooled cake into 4 even layers.
Place the bottom layer on a place and spread 1/3rd of the caramel on the cake top.
Place the next cake layer and another 1/3rd caramel, repeat and top with last cake layer.
Spread the icing over the side and top of the cake.
Enjoy.
Step 5
Step 6
Step 9
Step 11
Step 10
Step 14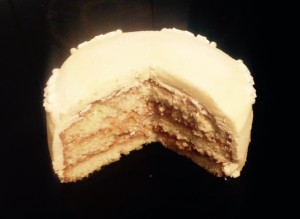 Step 17
Like this recipe? Subscribe via RSS or email to get my new entries and more scrumptious recipes with reviews.