Grapefruit Pistachio Rose and Ginger Syrup Cake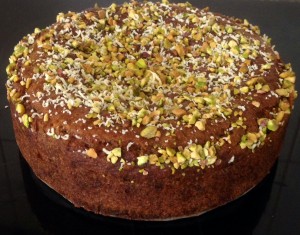 In the background of my baking that you don't see I have actually been trying to bake with Grapefruit with 5 attempts now. This sweet but sour citrus fruit is being very difficult with me.
I've trialed biscuits, slice and cakes in the past but this time FINALLY after much research with Grapefruit flavour parings and textures I have come home with the goods!
Who would have though that to complement and tone down the sourness of the fruit the best combo to Grapefruit is Pistachio, Ginger, Lemon and Rosewater…say what?
Seriously this cake is one not to pass on. With it's Middle Eastern influence and European taste I dare anyone to produce a higher quality tasting Grapefruit cake!
Ingredients:
160g shelled, unsalted pistachios
150g butter
135g caster sugar
3 eggs
3 tsn rosewater essence (equivalent to 3tbsn rosewater)
2tbsn milk
2 tbsn lime juice
1 Grapefruit zest (or 4 tsn zest)
1+1/2 tsn ground ginger
240g self raising flour
1 tbsn bicarbonate of soda
For the grapefruit syrup:
1 grapefruit
110g water
2 tsn rosewater essence
90g caster sugar
Method:
Preheat oven to 180c and line a 23cm spring form baking tin with baking paper.
Place 135g of the pistachios in a food processor and process until finely ground.
Roughly chop up the remaining 25g pistachios and reserve for the top for decorations.
Using electric beaters beat the sugar and butter until light and fluffy.
Add in the eggs, beating in between each addition until pale and creamy.
Add the rosewater essence, milk, lime juice and zest beating in between each addition.
In a separate bowl combine the ground pistachios, flour, bicarb and ginger whisking to mix. Sift the dry ingredients into the liquid mix.
Using a spatula folder the dry ingredients into the wet until combine then pour into the cake tin.
Bake in the oven for 45 mins or until a skewer inserted in the center comes out clean.
To make the grapefruit syrup squeeze the juice of the grapefruit through a sieve and into a pan with the water, rosewater essence and sugar and gently heat until the sugar is dissolved.
Increase the heat and boil for 2 mins until the liquid resembles a thin syrup.
Using a skewer make holes all over the surface of the cake then pour the syrup over the top of the cake evenly.
Leave the cake to cool completely in its tin.
Once cold remove the cake from the tin and scatter with the remaining pistachio pieces.
Notes:
You will need 1 whole grapefuit for this recipe.
This cake is best served warm.
Serve with a scoop on ice-cream, yum!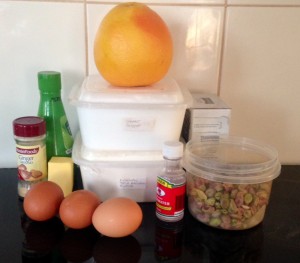 Ingredients
Step 2
Step 6
Step 8
Step 10
Step 11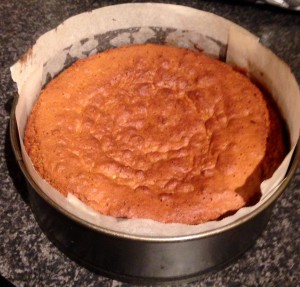 Step 12
Like this recipe? Subscribe via RSS or email to get my new entries and more scrumptious recipes with reviews.