Green Tea Melting Moments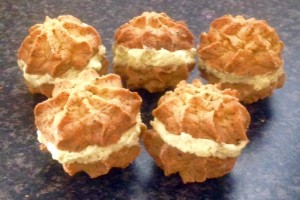 For a long time now I have attempted to bake with green tea. I have made multiple cakes, shortbread, cupcakes, even a slice and nothing has turned out to satisfactory results or expectations.
I have a feeling this latest attempt is green tea attempt #6 and I am pleased to say  I have finally come up with the goods!
Now usually when baking with green tea I would use Matcha (green tea powder), however this ingredient can be very difficult to come by (definitely for me) and I was not about to travel all the way to the city to buy it! Therefore I decided to use green tea leaves. In the past when I have used loose green tea the results have not been great so instead of adding the tea to the recipe I decided to infuse the liquid ingredients with the tea to bring out the flavour (the same way hot water does with a cup of tea).
This may seem weird but it definitely works and actually has a better green tea flavour than using Matcha (green tea powder).
Therefore finally…after a few years of attempting… introducing  my Green Tea Melting Moments!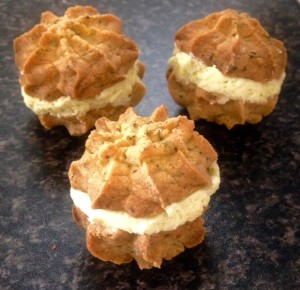 Ingredients:
Biscuit:
300g butter
37g loose green tea (or 15 green tea bags if you don't have loose)
½ cup custard powder
1/3 cup icing sugar
1 + ¼ plain flour
1 tsn baking powder
1 cup + 1 tbsn icing sugar
Method:
Preheat the oven to 180c and line 2 large baking trays with baking paper.
Place the 300g butter in a saucepan on the stove on medium until bubbling.
Turn to low, add the green tea leaves (if using bags cut and pour in the butter) and let the ingredients simmer for 10 minutes to allow the butter to infuse the flavor.
Once simmered pour through a sieve into a bowl and place in the fridge to harden again.
Place 180g of the butter into a bowl once the butter is set again and using electric beaters beat on high for 2 minutes.
Add the custard powder and icing sugar beating for 2 minutes until light and fluffy.
Add the flour and baking powder and beat until combine.
Spoon the mix into a piping bag with a star nozzle and pipe onto the baking paper in 4 cm rounds.
Bake in the oven for 16 minutes or until golden.
Allow the biscuits to cool on the tray for 5 minutes then you may transfer onto a cooling rack.
For the filling beat with electric beaters the remaining butter (this should be 100g) and icing sugar on high for 5 minutes until fluffy and light.
Using a spoon place 1 tsn of filling on a cooled biscuit and sandwich with another biscuit on top.
Notes:
You will notice I have listed 300g of butter but the recipe only calls for 280g. This is due to the tea soaking up some of the butter when infusing, therefore resulting in some butter lost. If you still need more butter just top up with standard butter to hit the required amount.
If you would prefer to use Matcha powder instead of the loose green tea what you will need to do is:

Omit steps 2, 3 and 4 of this recipe.
Use 200g butter for the biscuit (increase of 20g).
Add 3 tbsn of Matcha when you add in the flour and baking powder.
Add 1 tbsn of Matcha to the filling mix and omit the extra 1 tbsn of icing sugar for the filling.
Beat the Matcha with the butter and icing sugar all at the same time.
Ingredients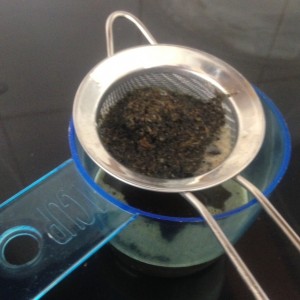 Step 4
Step 7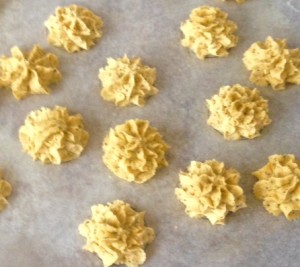 Step 8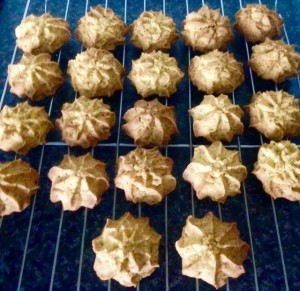 Step 9
Step 11
Step 12
Like this recipe? Subscribe via RSS or email to get my new entries and more scrumptious recipes with reviews.