Mandarin and Polenta Syrup Cake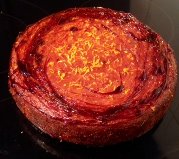 Mandarins at the moment are so moorish, just asking me to bake something with them!
After making the Semolina and Orange Blossom Cake a few weeks back I decided to take inspiration from the earthy influence and create a new recipe with a similar texture using another unusual base ingredient.
Polenta is quite similar to semolina that is derived from corn instead of wheat with comparable denseness and unique texture (therefore making it gluten free).
For flavour I decided to take advantage if the juicy and sweet mandarins which brought me to the end result of a Polenta and Mandarin Syrup Cake.
Ingredients:
Cake:
2 mandarins
85g polenta
60g almond meal
½ tsn baking powder
3 eggs
110g sugar
Syrup:
125g sugar
1 tbsn + 1 tsn water
200ml mandarin juice (approx. 4 mandarins, juiced)
Method:
Pre-heat the oven to 180c and line a 20cm spring form baking cake tin with baking paper.
Place the mandarins in a small saucepan. Fill with water until the mandarins are covered and bring to the boil.
Boil on high for 30 minutes or until they are very very soft.
Remove from the saucepan and place, skin and all into a food processor and process until pureed with no lumps.
Place the polenta, almond meal and baking powder in a bowl and stir until combined.
With electric beaters beat the eggs and sugar for 10 minutes or until mix is thick, pale and tripled in size.
Fold very carefully half the polenta and puree mandarins, then add in the remainder of both the polenta and puree very carefully until combine.
Pour the mix into the cake tin and place in the oven for 40 minutes of until a skew comes out clean.
While the cake is cooking make the syrup by placing the water and sugar in a saucepan on high, stirring until the sugar is dissolved, then leave on medium for 8 minutes or until the syrup just started to caramelize and goes rich in colour. Swirl the pan every few minutes to stop the sugar crystals forming on the sides of the pan.
Now very careful not to burn yourself pour the mandarin syrup into the saucepan and using a whisk stir until the mix is combine, smooth and silky.
Using the cake skewer pierce the cake about 20 times to place little holes.
Now with a spoon pour the syrup over the cake evenly. Swirl the tin to make sure no syrup sits in the middle of the cake and leave to cool.
Once cooled take out of the tin and enjoy.
Notes: You can serve with a dollop of whipped cream.
Ingredients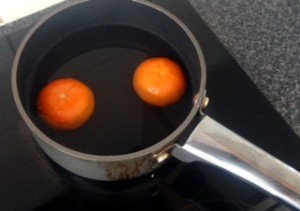 Step 2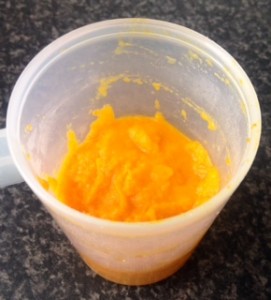 Step 4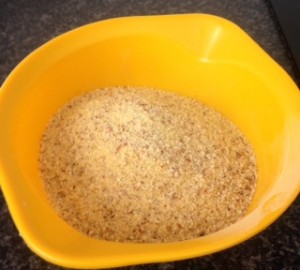 Step 5
Step 6
Step 8
Step 10
Step 11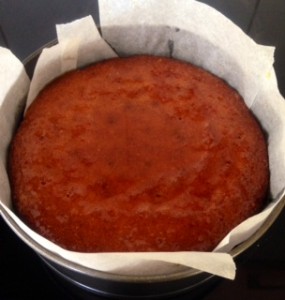 Step 12
Like this recipe? Subscribe via RSS or email to get my new entries and more scrumptious recipes with reviews.