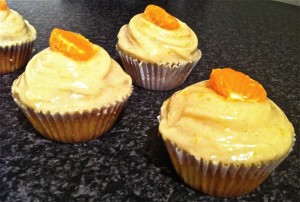 I'm not really a big fan of mandarins, they are ok but I'd much prefer an orange over mandarins any day. However as this fruit is not common in baking I of course had to create a recipe that not only included this fruit as an ingredient but "heroed" the fruit and had to tasted bloody delicious. For this reason this recipe makes it to my blog  – I was super surprised at how amazingly tasty these cupcakes are.
Ingredients:
180g butter
1 cup white sugar
1 tsn vanilla essence
2 mandarins (2 zest and juice)
3 eggs
2 cups self raising four
¾ cup yoghurt
Icing:
250g cream cheese
2 + 1/3 cups icing sugar
1 mandarin (zest for icing and segments for decoration)
Method:
Pre-heat oven to 180c degrees and line a 16 hole cupcake pan with patty cases.
Beat together the butter, sugar, vanilla and zest until pale and smooth.
Add the eggs one at a time.
Squeeze the 2 mandarins with a juicer for the juice.
Fold through the flour, yoghurt and juice until the batter is well combined.
Spoon batter into cupcake patties until 2/3 full.
Bake for 25-30 minutes or until skewer inserted in the center comes out clean.
Cool on cooling tray.
To make the icing beat together ingredients for 5 minutes until smooth and creamy .
Pipe icing on top of the cupcakes and top with half a mandarin segment.

Step 2

Step 9
Like this recipe? Subscribe via RSS or email to get my new entries and more scrumptious recipes with reviews.