Rosemary Apple and Olive Oil Cake
After some recent experimenting with Basil, Earl Gray, Jasmine and Green Tea I'm not surprise that I have also taken an interest in more spice and herb kitchen staples. The latest fixation – Rosemary. So I went a bit Rosemary baking crazy on the adventure with plenty of trial and error until I finally came up with a recipe that ticked all the box.

I was so sure the Chocolate and Rosemary cake experiment would be the strongest, but was triumphed by the Apple Rosemary and Olive Oil Cake.

The flavour of this cake is very interesting and addictive with a savory twist. While the apple provides a delectable and delicate texture.
Ingredients:
760g peeled and diced apple pieces
4 eggs
160ml olive oil
2 tsn vanilla
4 tsn dried rosemary
270g sugar
100g flour
80g self raising flour
60g ground almonds
Apple Crisps:
40g butter
40g sugar
250g peeled and thinly sliced apple
Icing:
500ml mascarpone cheese
100ml honey
1 tsn vanilla essence
Method:
Pre-heat the oven to 180c degrees and line a 20cm cake tin with baking paper.
Peel and diced the apple into small pieces and set aside.
Place the rosemary into a mortar and pestle and grind until fine.
Place the eggs, olive oil, vanilla, ground rosemary and sugar into a bowl and beat with electric whisk for 2 minutes of until the mix is light and fluffy.
Sieve in the flours and ground almonds and whisk with a hand whisk until just combine.
Add the apple and stir until just combine.
Pour the mix into the cake tin and bake for 1 hour or until a skewer inserted into the middle comes out clean.
Place the cake onto a cooling rack until cold.
To make the apple crisps use a mandolin to finely slice the apple and place in a saucepan on a medium heat with the sugar and butter.
Stir until the butter and sugar mix is soaked into the apple, then place the apple onto baking paper and place in the oven for 10 minutes or until the apple begins to golden.
Remove the apples and set aside to cool.
To make the icing place the mascarpone, vanilla and honey into a bowl and using electric beaters whisk until peaks form.
Cut the cake in half horizontally and spread with half the cheese mix.
Place the 2nd cake layer on the top of the cheese icing layer and top with the remaining cheese.
Scatter the apple crisps over the top of the cake and enjoy.
Step 2
Step 4
Step 6
Step 7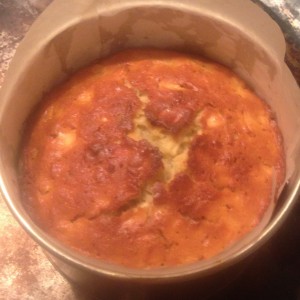 Step 8
Step 9
Step 10
Step 13
Step 14
Like this recipe? Subscribe via RSS or email to get my new entries and more scrumptious recipes with reviews.