Spiced Garden Cake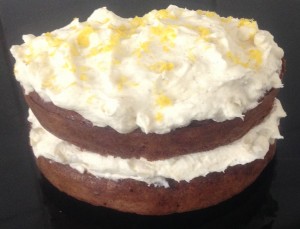 In the past I have made many cake with veggies; a chocolate zucchini cake, spiced carrot cake, traditional Swedish apple cake, pumpkin and maple cake, pumpkin pie…and the list goes on.
All of these cakes were sooo tasty and are beautifully moist thanks to the vegetables.
I wanted to take baking with veggies to another level, it may sound weird and bland to have a cake based on a selection of common garden vegetables, however the mix of spices, zingy zest and satisfying inclusion of cream make this cake a unique hearty and nourishing treat.
This cake is also a great way to use up left over vegetables and turn them into a scrumptious dessert.
Ingredients:
Cake:
215g flour
230g brown sugar
2 tsn ground cinnamon
1 tsn ground mixed spice
1/4 tsn ground cardamom
1 tsn baking powder
120g grated apple
90g grated carrot
90g grated zucchini
50g grated pumpkin
1/2 tsn orange zest
80ml vegetable oil
80ml milk
2 eggs
Cream icing:
150g cream
2 tbsn icing sugar
1 tsn orange zest
1/2 tsn ground cardamom
Method:
Pre-heat the oven to 170c degrees and line a 20cm cake tin with baking paper.
In a bowl place the flour, sugar, cinnamon, mixed spice, cardamom and baking powder and stir until combine.
Add the grated apple, carrot, zucchini and pumpkin and stir unit into the dry mix until combine.
In a separate bowl mix the zest, milk, oil and eggs.
Add the egg mix into the flour mix and stir until well combine.
Pour the mix into the tin and bake in the oven for 40 minutes or until a skewer inserted in the middle of the cake comes out clean, leave aside to cool on a cooling rack.
With electric beaters whisk the cream until soft peaks form.
Add the sugar, zest and cardamom to the cream and whisk until combine.
To assemble cut the cake horizontally in half.
Place 1 cake layer on a plate, top with half the cream icing, top with the 2nd cake layer and then with the remaining icing.
Enjoy!
Step 3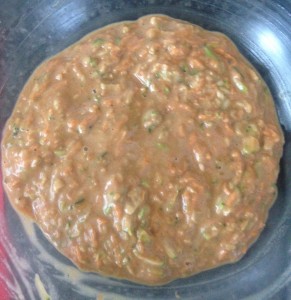 Step 5
Step 8
Like this recipe? Subscribe via RSS or email to get my new entries and more scrumptious recipes with reviews.