Sticky Date and Spiced Banana Cookies
What do you do when you have left over dates and banana? You get your bake on of course! Though this recipe is for biscuits I did have to flip a coin as to if I would create a cake or biscuits.
Two of my signature dishes are my Sticky Date Pudding with Butterscotch Sauce and my Spiced Banana Cake so it only made sense to take the best of both worlds and produce a sticky date and spiced banana biscuit. Why reinvent the wheel as they say…outcome, my new favorite biscuit.
Ingredients:
150g pitted dates
180g butter
150g brown sugar
1 tsn vanilla essence
1 egg
256g plain flour
1 tsn bi-carbonate of soda
2 tsn ground ginger
2 tsn mixed spice
½ tsn ground star anise
1 large banana
Method:
Pre-heat the oven to 180c degrees and line 2 large baking trays with baking paper.
Boil some water and place into a bowl. Add the dates and allow the dates to plumb up for 10 minutes in the water.
Drain the dates and place into a food processor and process until smooth.
Using electric beaters beat the butter and brown sugar until light and creamy.
Add the vanilla and egg yolk and beat for a further 2 minutes.
Add the flour, bi carb, ginger, mixed spice, star anise and pureed dates to the butter mix.
Beat the mix for 3 minutes until fully combine and creamy.
With wet hands roll the dough into balls of 20g in size.
Once the balls are rolled place them onto the baking trays.
Cut the banana into 5mm round pieces and place in the center of each ball.
Using your hand push the banana into the top, slightly flattening the cookie.
Bake in the oven for 20 minutes or until the biscuit is hard on touch.
Leave on the tray for 5 minutes then transfer the cookies onto a cooling rack.
Ingredients
Step 6
Step 11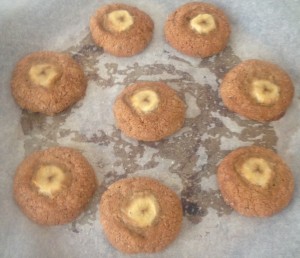 Step 13
Like this recipe? Subscribe via RSS or email to get my new entries and more scrumptious recipes with reviews.