Cherry Trifle Cake
I must say I am quite fond of a really good trifle. Something about layers of varying but complementary flavours and a range of textures (jelly – cake – custard – fruit) is certainly appealing. It does have to be a good mix of flavours and ingredients though as a trifle can easily be bland and boring.
The down side to trifles though are that they are hard to serve and plate up in an attractive or tempting manner without looking like a blob of random mess. This got me thinking that if a trifle was structured like a cake instead of a deconstruction it would be much easier to eat and much more appealing to the eye (we all eat with our eyes don't we..?).
I could still quite easily keep the layers and textures as per a usual trifle, just modernise it.
As cherries are one of my favourite fruits I decided to use this fruit as my flavour base and create a twist on the old fashioned sweet treat.
Outcome, AMAZING! Fluffy cake, silky custard, alcohol infusion and jelly craziness all wrapped up in cream…yummm.
Ingredients:
3 eggs
110g caster sugar
75g corn flour
2 tbsn-custard powder
1 tsn cream of tartar
½ tsn bicarbonate of soda
85g cherry jelly crystals (you will need 3 dark cherry Aeroplane jelly boxes)
70ml sweet sherry
Custard:
35g corn flour
30g custard powder
55g sugar
435ml-thickened cream
180ml milk
2 tbsn kirsch
20g butter
1 egg yolk
Extra:
455g thickened cream
200g fresh cherries
Method:
Pre-heat the oven to 180c and line 2 x 22cm baking tin with baking paper.
Beat the eggs and sugar with electric beaters for 5 minutes.
In a separate bowl sift the flour, custard, cream of tartar and soda 3 times.
Fold the flour mix into the egg mix until combined.
Pour mix into one of the tins and flatten the top with a spoon.
Bake the cake for 25 minutes and then turn the cake onto a cooling rack to cool.
Now make the jelly by placing 1 cup of boiling water in a bowl, whisk in the jelly crystals until fully dissolved then whisk in 2/3rd cup of cold water.
Rinse the 2 x 25cm spring form cake tins with water and divide the jelly into both tins.
Place tins in the fridge until almost set.
Cut the cake into 3 even layers and brush the tops with the sherry.
Place 2 cake layers on top of the jelly and push down slightly.
Place the tins back in the fridge for a further hour and place the 3rd layer aside for later.
Make the custard by adding the corn flour, custard powder, sugar, 310ml cream and milk in a saucepan on a medium heat.
Whisk continuously until the mix becomes thick and boils.
Take off the heat and whisk in the kirsch, yolk and butter.
Cover the custard with plastic wrap and place in the fridge to cool.
Beat the remaining 125ml of cream in a bowl with electric beaters until peaks form.
Now whisk the cream into the custard mix until just combine.
 Remove the cakes from the tin by releasing the spring form.
Place one cake on plastic wrap jelly side up then places the cake with wrap back into the cake tin used to cook the cake.
Add half of the custard, then the 2nd cake jelly side up then cover with the reminding custard.
Lastly add the 3rd cake layer on top of the custard – cut side down.
Enclose with the wrap and place in the fridge for 3 hours to fully set.
Once set remove the wrap and tin and place onto a plate.
Whip the extra remaining 455g thickened cream until peaks form. Spread over the cake.
Top the cake with cherries to decorate, enjoy.
Notes:
If you don't have kirsch or sherry you can substitute with port.
If you are using the suggested jelly you need to buy 3 boxes, as each box has 2 packets and you need to use a total of 6 packs that are 9g each.
If you don't use spring form tins you can use a knife to loosen the jelly on the sides or place the tins in hot water for 1 second then turn upside down.
If you do not wish to use alcohol you can use cherry juice instead of the sherry and kirsch.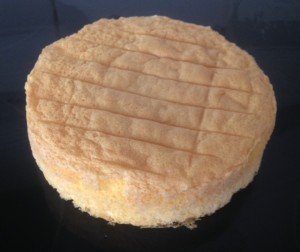 Step 6
Step 7

Step 10
Step 16
Step 17
Step 20
Step 20
Step 21
Step 22
Step 23
Step 24
Like this recipe? Subscribe via RSS or email to get my new entries and more scrumptious recipes with reviews.