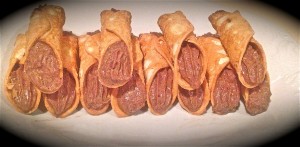 Citrus, Dark Chocolate and Ricotta Cannoli's
I have actually made these Cannoli's on quite a few occasions and in variations each time.
In this recipe I have tweaked to provide you with what I think the best variation (and the easiest as I cheat a little). I've made this before with alcohol, pistachios, candied fruit peel, glace cherries, you name it!
I have also made these from scratch (the cannoli shells that is) and to be honest they take a very long time while being fiddly and messy. As I have an Italian grocer down the road buying a pack of 12 shells for $5 is so much more easier.
Cannoli's are a traditional Italian dessert consisting of fried pastry filled with a cheese filling (usually ricotta or mascarpone). Variations of the filling are also common with cream or custard being piped in the shells.
Also stay tuned on this post, in a few weeks time you will see how I experiment with this recipe to produce a delightful and to die for sweet treat alternative using the fillings.
Ingredients:
300g fresh ricotta
¾ cup of icing sugar
Finally grated rind on 1 orange
Finally grated rind of I lemon
100g dark chocolate grated
Method:
Mix together all ingredients until smooth.
Spoon into a piping bag with a star nozzle (Witlon tip size up to you).
Pipe the filling into the shells generously starting from one end to the other.
And it's as simple as that.
Notes:
This will fill easily 12 medium size shells or 18 small shells.
This filling is actually really good as a filling in the middle and on top of a chocolate cake or sponge cake to give a basic cake a twist of variation.
The filling can also be piped into profiteroles as a change up from cream or custard (I shared my profiterole recipe in January).
Like this recipe? Subscribe via RSS or email to get my new entries and more scrumptious recipes with reviews.