Marmalade Bread and Butter Port Slice
Recently Bread & Butter pudding has been brought to my attention again, which for some reason happens to be one of my father's favorite desserts.
To me, this dessert is quite bland. I get that the sultanas, cinnamon and/or nutmeg add flavour, however ultimately it's still just soaked bread that is baked.
As the old English traditional recipe is so simple and only includes few ingredients for flavour  I thought this was a good dessert to play with and bring it to a place I found appealing.
After a bit of trial and error I ended up happy with an orange and port flavour pairing and a slice as the form.
Outcome? I'm now a fan of a Bread & Butter dessert.
Ingredients:
300g white sourdough bread, crusts removed
300ml milk
80g butter, melted
3 eggs
100g brown sugar
280g orange marmalade
2 tsn cinnamon
2 tsn vanilla essence
2 tsn port
100g sultanas
Ingredients:
Pre-heat the oven to 180c degrees and line a 20cm square cake tin with baking paper.
Cut the bread into 1cm pieces and place in a bowl with the milk for 5 minutes until the bread is soft and has absorbed the milk.
In another bowl place the melted butter, eggs, sugar, marmalade, cinnamon, essence and port. Using a hand whisk beat until well combine.
Add in the bread to the butter mix and stir with the hand whisk until well combine and the bread starts to breakdown.
Add in the sultanas and stir.
Pour the mix into the tin, smooth the top and bake in the oven for 40 minutes or until lightly brown.
Cool in the tin for 5 minutes then transfer to a cooling rack.
Serve with ice-cream or cream.
Ingredients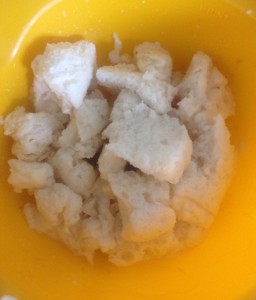 Step 2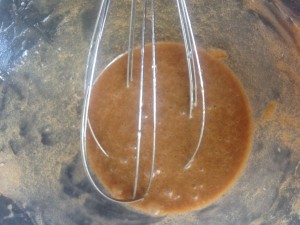 Step 3
Step 4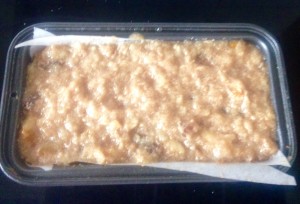 Step 6
Like this recipe? Subscribe via RSS or email to get my new entries and more scrumptious recipes with reviews.