Chocolate Ricotta Cheese Pudding with Ricotta Ice-Cream
Recently I needed to make a gluten free pudding for a dinner party, however I didn't want to use a gluten-free flour as I wanted a really really fluffy texture, almost like a soufflé lightness and from my experience gluten-free flour tends to produce a bit of a denser texture.
Therefore, I ventured into the kitchen and did some experimenting with a range of alternative base ingredients. Surprisingly (almost bizarrely) the ricotta experiment produced the most amazingly light texture that just melts in the mouth.
Keeping with the ricotta theme I completed the dish with my always successful crowd pleasing ricotta ice-cream.
This recipe is super moreish but not too sweet thanks to the dark chocolate and limited sugar in the pudding.
Ingredients:
Ice-cream:
450g ricotta cheese
300ml sweetened condensed milk
3 tsn vanilla extract
450ml thickened cream
60ml vanilla flavored liquor (optional)
Pudding batter:
40ml thickened cream
20ml milk
160g dark chocolate
220g ricotta
15g cocoa powder
1/4 tsn coffee granules

4 eggs

1/4 tsn salt

80g sugar
Sauce:
100g dark chocolate

180ml thickened cream
Extra:
Method:
Preheat the oven to 180c degrees.

In a food processor blitz the cheese, condensed milk and vanilla until smooth.

Whisk the cheese mix and cream with electric beaters in a bowl until peaks form.

Stir the liquor until well combined and place in a bowl in the freezer to completely set.

To make the pudding place the cream and milk into a bowl and heat in the microwave until steaming.

Add the chocolate in pieces to the milk mix and stir until silky smooth and well combined.

Place the chocolate mix, ricotta, cocoa powder and coffee granules into a food processor and blitz until well combined.

Separate the egg yolks from the whites and add the yolks to the chocolate mix, blitz until smooth and well combine.

Place the egg whites into a bowl along with the salt and beat until soft peaks form.

Add the sugar to the eggwhites and beat for 5 minutes or until the mix is glossy and smooth.

Fold the chocolate mix into the eggwhites until only just combined.

For the sauce, place the cream into a bowl and heat in the microwave until steaming.

Add the chocolate pieces to the cream and stir until silky smooth and well combined.

Add the 20g of extra butter, melted, to a pudding bowl and roll the bowl  around to ensure all slides are covered in butter.

Pour the pudding mix into the bowl and cook in the oven for 45 minutes or until a skewer inserted into the center comes out almost clean.

Spoon the pudding into serving bowls, top with the chocolate sauce and a scoop of the ricotta ice-cream.

Step 2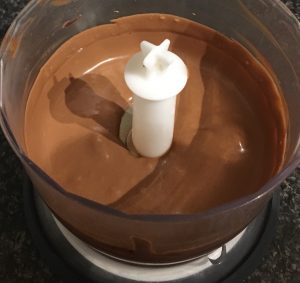 Step 8

Step 10
Step 13
Step 15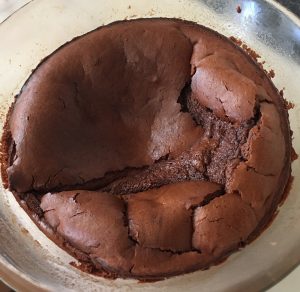 Step 15

Step 17
Like this recipe? Subscribe via RSS or email to get my new entries and more scrumptious recipes with reviews