Coffee Caramel Tart
This tart is simple, straightforward and not too crazy with methodology or taste combinations.
Caramel and coffee makes sense and does sound like a perfect match. Why this recipe makes it to this website is that I actually came up with this recipe by combining a few recipes into one.
I have used a recipe base of a Banoffee pie, however created a caramel latté twist instead of a banana flavour base.
If you love your café lattes this tart will be a moreish and addictive teat!
Ingredients:
Pastry:
200g flour
100g butter
50g sugar
Filling:
435g cream
10g coffee granules
375g caramel (I used Nestle top 'n' fill).
3 egg yolks
Topping:
Method:
Pre-heat the oven to 200c degrees.
Place the pastry ingredients into a food processor and blitz until the mix resembles fine breadcrumbs.
Add 50g of water and process until the mix resembles dough and comes away at the sides of the bowl.
Knead the dough for a minute then divide into 6 balls of 60g each.
With a rolling pin roll the balls to disks and place in 6 small tart cases.
Prick the pastry with a fork a few times and place the tarts in the fridge for 30 minutes.
Meanwhile make the filling by placing the 435g cream and the coffee granules in the microwave on a high heat until boiling.
Stir to combine and leave aside to cool.
Place the 375g of caramel in a bowl with the egg yolks and whisk with a hand whisk until well combine.
Add the cream mix to the caramel mix and whisk with a hand whisk until smooth and combine.
Place some rice or baking weights onto some baking paper and add to the center of each tart case to weight down the rise of the pastry base while cooking.
Place the tart shells in the oven for 10 minutes.
Remove the baking paper and weights and bake in the oven for a further 8 minutes or until the tart shells are slightly golden brown.
Turn the oven down to 180c degrees.
Pour the caramel filling into the pastry shells until full to the top.
Bake in the oven for 30 minutes or until the top is set.
Allow the tarts to cool then place in the fridge for an hour to firm up.
For the topping beat the cream with caramel with an electric mix until peaks form.
Spoon the cream over the caramel top and sprinkle with a few coffee granules.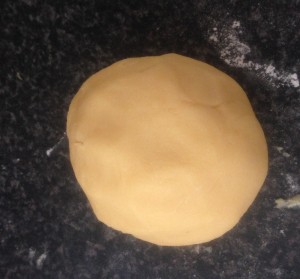 Step 4
Step 5
Step 6
Step 8
Step 9
Step 11
Step 17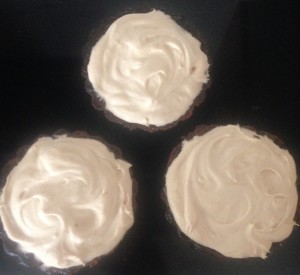 Step 19
Like this recipe? Subscribe via RSS or email to get my new entries and more scrumptious recipes with reviews.