Caramel and Chocolate Flan Brulee Brownie
There is not much to say on this little sweat treat.
I decided I wanted to make a slice that had layers of amazing tastes and textures, really taking the taste buds on a journey.
How I planned to do this was combining various scrumptious desserts into one delicious multi treat.
This recipe is executed by a rich chocolate brownie base, a light and fluffy vanilla flan centre and smooth melt in-your-mouth caramel with a crisp brulee top.
If I haven't got your attending by now nothing will!
Outcome = exactly what I hoped, Caramel, Chocolate Vanilla Flan Brulee Brownie bliss.
Ingredients:
300g caramel (I used Nestlé Caramel top n' fill)
1 tbsn extra sugar
Brownie:
100g dark chocolate
50g butter
70g sugar
70g plain flour
1 egg
Flan:
310g sweetened condensed milk
260ml milk
3 eggs
2 teaspoons vanilla essence
Method:
Preheat the oven to 190c and line a 21cm square cake tin with baking paper.
Spread the caramel evenly in the bottom of the cake tin and place in the freezer for at least 15 minutes.
Combine the chocolate and butter into a microwave safe container and microwave on medium for 1 minute. Stir. Microwave and stir every 30 seconds until the mix is silky and smooth.
Add the sugar, eggs and flour to the chocolate mix and whisk thoroughly with a hand whisk until well combined.
Using a spoon carefully place the mix on top the caramel without moving it. Spread to ensure even layering.
In a food processor add in the condensed milk, milk, eggs and vanilla essence. Cover and blend ingredients until the mix is thoroughly combined together.
Spoon milk mix over the brownie layer.
Place the tin in the oven for 50 minutes or until a skewer inserted in the middle comes out clean.
Let the brownie cool completely in the tin.
Once the brownie has cooled flip the tin on a plate, removing the tin and baking paper. Sprinkle the extra sugar on the top of the caramel layer.
Using a blow torch scorch the top of the slice until browned and bubbling.
Cut and serve.
Ingredients
Step 2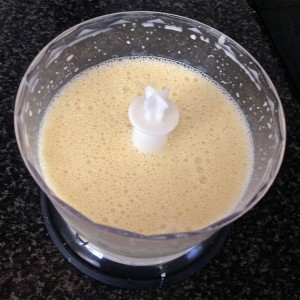 Step 6
Step 11
Like this recipe? Subscribe via RSS or email to get my new entries and more scrumptious recipes with reviews.