Glazed Grapefruit Brownie Slice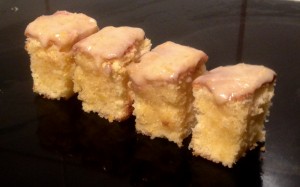 This recipe delivers on a zingy tasty delight that is a mix between a slice and brownie.
I wanted to make something really simple, quick, flavoursome and all about Grapefruit.
Grapefruit is an ingredient that I have dabbled with but never come up with a recipe that solely features the fruit while not being too tangy or sour.
I have posted a Grapefruit Pistachio Rose and Ginger Syrup Cake in the past, however this cake had Grapefruit as a flavour in a mix pairings, not featuring the fruit itself as front and centre.
Ingredients:
120g butter
160g sugar
100g flour
2 eggs
4 tsn grapefruit zest
3 tbsn grapefruit juice
Glaze:
70ml grapefruit juice
200g icing sugar
4 tsn grapefruit zest
Method:
Preheat an oven to 175c degrees and line a 15cm x 15cm square cake tin with baking paper allowing for paper overlap.
Using electric beaters whisk the butter and sugar in a bowl until light and fluffy.
Pour the flour into the butter mix and stir until just combine.
In a separate bowl with a hand whisk beat the egg, zest and juice until combine.
Pour the wet egg mix into the butter mix and beat with electric beaters for 3 minutes or until light and fluffy.
Spoon the mix into the prepared cake tin and smooth the top with the back of a spoon.
Place the tin in the oven for 25-30 minutes until just cooked and a skewer inserted in the centre comes out clean. Don't over bake.
Leave the slice in the cake tin for 5 minutes.
Place the slice onto a cooling rack until cold.
To make the glaze place all 3 ingredients in a bowl and beat until well combined.
Place the slice back in the tin with the baking paper, spread/pour the glaze evenly over the top of the slice and place in the fridge for 30 minutes or until the glaze hardens.
Remove from the fridge, pull the slice out of the tin via the overhanging baking paper, cut and enjoy.
Notes:
You will need a whole grapefruit for this recipe.
Ingredients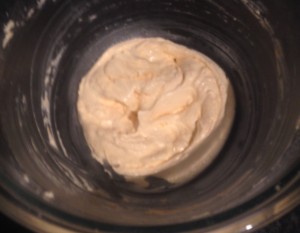 Step 5
Step 8
Step 11
Like this recipe? Subscribe via RSS or email to get my new entries and more scrumptious recipes with reviews.