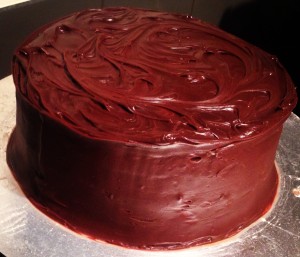 Chocolate Zucchini Cake
Now I know there are many many many chocolate and zucchini cake recipes out there (seriously, who would have though it), but this one is a winner.
It's simple, easy and I dare you to bake a more dense cake!
Zucchini is one of my favourite veggies and the fact it generally takes on other ingredients flavours as appose to having its own strong flavour make me think this would be an interesting experiment to trial…
The outcome, this cake is great and tastes lovely, it also sticks with my desires to turn the ever-so-naughty chocolate baking treat into a healthier version.
So without further ado my Chocolate Zucchini Cake:
Ingredients:
1/2 cup butter
1 cup brown sugar
3 eggs
1 tsn vanilla essence
1 tsn instant coffee
2 cups plain flour
1/2 cup cocoa powder
1/2 tsn baking powder
 1 tsn bicarbonate of soda
3 cups of grated zucchini that has had a good squeeze to remove excess liquid
1 cup dark chocolate chips
Method
Preheat oven to 180 c.
Line or grease a 28cm spring form cake tin.
Beat together butter, sugar and eggs until the batter is pale. Following add the vanilla and coffee.
In another bowl sift the flour, soda, bicarb and cocoa. Stir in zucchini and choc chips.
Now lightly fold in wet mix unto the dry mix until combined.
Pour into tin and bake for about 50-60 minutes until a skewer comes out clean.
Cool in tin for 5 mins then transfer onto a cooling rack.
Now there are 3 ways I have made this cake and finished them to serve. These being:
Top with mixed berries and dust with icing sugar and cream on the side
Covered the cake in chocolate ganache (however defeats the 'healthier' statement); OR
Make a cherry jam. For this all I did was bought a 680g jar of Morello cherries and added to this 1/2 cup white sugar and 1/2 cup of the cherry juice from the jar. I placed these into a pan on the stove and once boiled I added 2 tbs corn flour and whisked until thick. Once the cake was cooled I cut in half and spread the jam in the center and the top of the cake. Outcome OMG!
Things to note:
Without the jam or berries the cake can come off to be a little tiny bit 'earthy' tasting…not really noticeable but to a sweet tooth like mine the cake is not the sweetest around.
I made Cherry jam as I had the jar in the cupboard and LOVE cherries.
Lots of zucchini cake recipes don't have the coffee however I think it intensifies the chocolate taste and you don't notice it's there.
Like this recipe? I recommend you also check out my Red Wine Chocolate Cake. Additionally please do subscribe via RSS or email to get my new entries and more scrumptious recipes with reviews.