This is the most delectable and satisfying chocolate mousse you will eat. Replacing thickened cream with low fat ricotta cheese makes this dessert creamy, tasty and a lot less fattening.
Adding in the spices and coffee give the chocolate more body and flavor layers. This mousse can be made super quickly and is super easy.
Never again will I make chocolate mousse with cream!
Ingredients:
230g low fat ricotta
180g dark 70% chocolate
2 eggs
40g icing sugar
1/2 tsn cinnamon
1/2 tsn ground fennel
1/2 tsn ground cloves
1/2 tsn ground cardamom
1 tsn coffee granules
Pinch salt and pepper
Method:
Place the chocolate in a bowl and microwave on medium for 1 minute bursts, until almost all melted.

Stir chocolate until smooth and silky, leave aside.

Place the ricotta, egg yolks, sugar, spices, coffee, salt and pepper into a food processor and blitz until well combine and smooth.

In a separate bowl beat the egg whites with electric beaters until peaks form.

While the food processor is running pour in all the chocolate until well combined.

Add the chocolate mix to the egg whites and fold the mixes together until just combine and smooth.

Pour the mix into 4 dessert glasses and place in the fridge for 1 hour to set.

Decorate with a dust of icing sugar and cocoa powder and enjoy.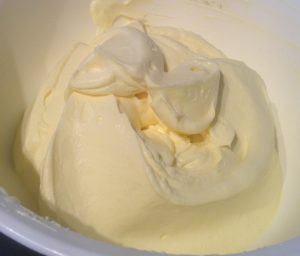 Step 3

Step 4

Step 5

Step 7

Like this recipe? Subscribe via RSS or email to get my new entries and more scrumptious recipes with reviews.