Parmesan Cheese Chocolate Slice
While researching interesting flavour combos to experiment with I came across a reference to chocolate and parmesan cheese.  This sparked my interest as (1) that just sounds so wrong and (2) it could be an interesting experiment considering baking with ricotta, mascarpone and cream cheese is so common.
Parmesan does have a very different texture and a much stronger taste than its creamy associates listed above; however, this would just skew the way I will need to incorporate the cheese and the volume placed in the recipe.
Therefore to complement the texture of the cheese I opted for a slice and undertook a lot of taste testing until I hit the volume of parmesan that I felt was the perfect ratio to chocolate.
Now, I do realise this flavour combo does sound weird but the output of this slice is perfection. The slice cuts like a dream and tastes like one to, seriously!
Ingredients:
Base:
190g flour
30g cocoa powder
80g brown sugar
150g butter
Filling:
330g icing sugar
120g grated parmesan cheese
Topping:
200g dark chocolate
20g vegetable oil
Method:
Pre-heat the oven to 180c and line a 20x20cm cake tin with baking paper.
Place the flour, cocoa powder, sugar and butter into a food processor and blitz until the mix resembles breadcrumbs.
Place the mix into the base of the tin and flatten down with your fingertips.
Bake in the oven for 15-18 minutes or until the top is firm.
Set the slice aside to cool.
Make the filling by placing the icing sugar, parmesan cheese and 50ml of water into a saucepan and stir on a medium heat until the mix is combine and the cheese is melted.
Pour over the top of the chocolate biscuit base and place in the fridge for 30 minutes to set firm.
Place chocolate and oil into a saucepan on low heat and stir until melted and smooth.
Pour the chocolate topping over the filling and place back in the fridge for 1 hour to set.
Cut and enjoy.
Notes:
I used grated packet cheese. If you are using fresh and grating yourself you may want to add 2/3 of the cheese that I have and taste test as the fresh Parmesan (depending on brand) could vary in taste strength.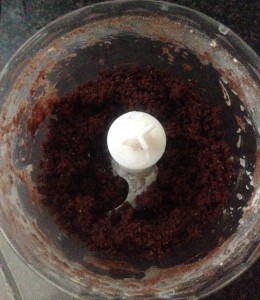 Step 2
Step 3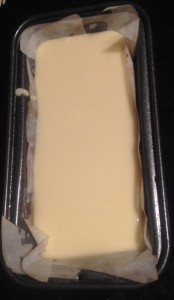 Step 7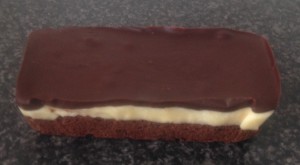 Step 9
Step 10
Like this recipe? Subscribe via RSS or email to get my new entries and more scrumptious recipes with reviews.