Rhubarb Strawberry Yogurt Cake with Lemon Yoghurt Frosting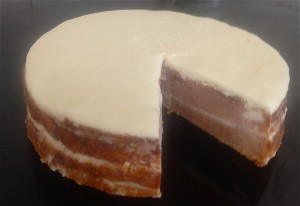 Ever noticed how some recipes call for buttercream, sour cream or even just plain cream instead of milk? So if these other dairy ingredients are used to change the texture of cakes then I wondered what yoghurt would do…
Being a massive fan of yoghurt (especially fruit flavored) I decided to make a cake with yoghurt and the base ingredient.
As I had strawberry yoghurt in the fridge and some rhubarb left over from my rhubarb orange and ginger cake, I decided to use these two ingredients to make Rhubarb and Strawberry Yogurt Cake. This cake is really tasty but I wanted to make sure yoghurt was the hero ingredient so I decided to incorporate yogurt into an icing for the cake.
Knowing that lemon would work well as a 3rd key flavor to the Rhubarb and Strawberry I made up a Lemon Yoghurt Frosting (mascarpone cheese to thicken up the texture to ensure no runny business)!
Ingredients:
Cake:
600g rhubarb
1 + ½ flour
2 tsn baking powder
¼ salt
1 cup of strawberry yoghurt
1 cup sugar
3 eggs
1 tsn lemon juice
1 tbsn strawberry essence
½ cup oil
Icing:
220g thick natural yogurt
70g icing sugar
120g mascarpone cheese
1 tbsn lemon zest
Method:
Pre heat the oven to 175c and line a 30cm cake tin.
Place the rhubarb cut into 2 cm pieces in a saucepan with ¼ cup sugar. On a medium heat cook, stirring for about 10 minutes until the rhubarb is soft and smooth. Place aside to cool.
Place the flour, baking powder, salt and remaining (3/4 cup) sugar into a bowl and whisk.
Place the yogurt, eggs, juice and essence into another bowl, whisk to combine.
Pour the dry ingredients into the wet and using a whisk combine. Once just combine add in the oil and the rhubarb. Stir to combine.
Place into the cake tin and bake for 45 minutes or until a skewer inserted into the cake comes out clean.
In the interim make the icing by beating together all 4 ingredients until well combine. Place in the fridge to set.
Once the cake is cooled spread the icing all over the cake and enjoy!
Ingredients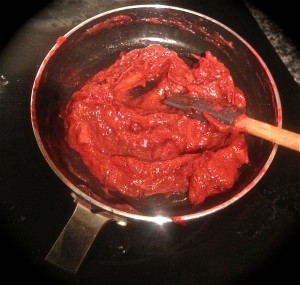 Step 2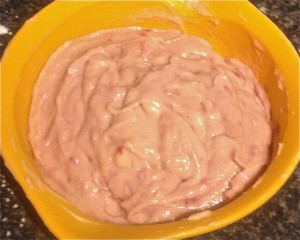 Step 5
Step 6
Step 7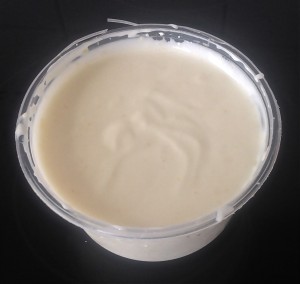 Step 7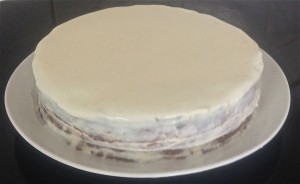 Step 8
Like this recipe? Subscribe via RSS or email to get my new entries and more scrumptious recipes with reviews.