Banana and Bacon Caramel Slice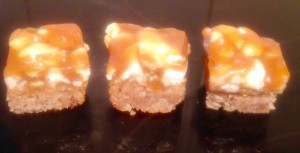 I have had the flavour pairing of bacon and banana on my radar for quite some time now, however was unsure of how to incorporate these two ingredients into a recipe that would work, have the perfect texture, complement other ingredients and be super tasty.
I'm familiar with baking with bacon and know that it is a massive flavour enhancer (my Chocolate Bacon Cake is amazing).
After a bit of experimenting I ended up very happy with a caramel slice type recipe that incorporated the bacon and banana.
The caramel and bacon work so well together, the bacon is almost like a natural salt, thus making a lovely salted caramel flavour. Additionally banana and caramel are amazing together (hello Banoffee Pie). As banana is quite a soft ingredient and does not hold is shape well (unlike marshmallow) I have opted for banana chips for this recipe. The chips actually provide a lovely complementary crunch to the smooth caramel and fluffy marshmallows.
Ingredients:
Biscuit Base:
220g diced bacon
100g butter
90g sugar
30g rice flour
150 flour
Topping:
40g thickened cream
260g caramel sweets (lollies)
90g marshmallows
80g banana chips
Method:
Pre-heat the oven to 180c degrees and line a 15cm x 15cm square cake tin with baking paper.
On a high heat place the bacon pieces in a saucepan and fry until the bacon is brown and bubbling.
Place the bacon on paper towel to absorb the oil then place in a food processor (you will have 100g of cooked bacon pieces).
Place the melted bacon, butter, sugar and flours in the food processor and blitz on high until the bacon is as fine as breadcrumbs.
Pour the mix into the tin, flatten with a spoon and bake in the oven for 30 minutes or until firm to touch.
Cut up the banana chips into small pieces as well as the marshmallows.
Scatter the banana and marshmallows over the top of the biscuit base.
Place the cream and caramels in a saucepan on a medium heat and stir until the caramel and cream become smooth and melted.
Pour the warm caramel over the top of the slice.
Allow the caramel to set then cut into square pieces.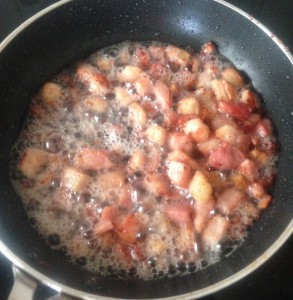 Step 2
Step 4
Step 5
Step 7
Step 8
Step 8
Step 9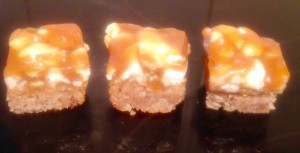 Like this recipe? Subscribe via RSS or email to get my new entries and more scrumptious recipes with reviews.