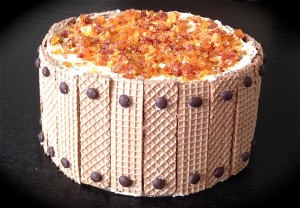 Chocolate Bacon Cake with Maple Frosting
We saw cake-pops, marshmallows and salted caramel sweet treat baking trends last year. This year is an interesting one, where one trend really caught my eye and became a must on my list to experiment with – the sweet and salty combo, more specifically salted bacon praline.
Very interesting, sugar and bacon – how gross. However, the sugar and bacon comb delivers sweet and salty, which is the big craze at current.
French toast with maple syrup and bacon is a norm in America on diner breakfast menus that is slowly migrating onto AUS breakfast menus (think brioche bread, mascarpone cheese, bacon and maple syrup – sometimes with poached pears).
So after doing some research (at a few cafes for breakfast of course) I decided to make a choc bacon cake and cupcakes and top it off with maple icing and bacon praline. Don't knock this until you try it, you can't taste the bacon in the cake but the sweet-salty taste is quite amazing.
Ingredients:
250g bacon, diced
2 cups of cake flour
¾ cup of cocoa powder
1 + 3/4 cups of white sugar
2 tsn baking powder
¼ tsn salt
1 tsn baking soda
2 eggs
½ cup strong coffee
1 + ½ cups buttermilk
½ butter
Frosting
135g butter
2 cups icing sugar
1 cup rice flour
140g maple syrup
Extra, ¼ cup white sugar (optional)
Method:
Pre-heat oven to 180c and line a 25cm round cake tin with baking paper.
Place bacon in a frying pan and fry for 10 mins or until crisp and brown.
Place the bacon onto paper towel to drain off excess oil.
Place the bacon in a food processor until fine.
Sift the flour, cocoa, sugar, baking powder, salt and baking soda in a bowl, mix together.
In another bowl whisk by hand the eggs, coffee, buttermilk and butter.
Place the wet mix and ¾ cup bacon into the dry mix bowl and whisk together until just mixed through.
Pour into the cake tin.
Bake in the oven for 45-50 minutes or until a skewer inserted into the middle of the cake comes out clean.
Cool in tin for 10 minutes then on a baking rack until cool.
To make the icing – cream the butter in a bowl with electric beaters for 10 minutes.
Add the sugar, flour and maple syrup and hand stir until almost combine. Now beat for 5 minutes until fluffy.
Cut the cake into 3 even layers, spread the frosting in between the cake layers, top and sides.
Optional:
To decorate place the left over bacon on some baking paper.
Place the extra sugar in a pan on the stove and stir until sugar starts to dissolve. Once sugar has turned into a syrup pour over the bacon.
Once set place into the food processor until fine pieces have formed then sprinkle over the cake top.
Notes:
Like this recipe? Subscribe via RSS or email to get my new entries and more scrumptious recipes with reviews.
Ingredients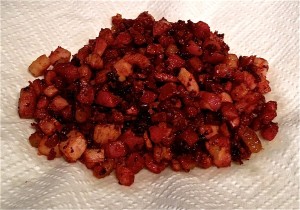 Step 3
Step 4
Step 5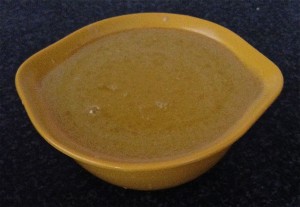 Step 6