---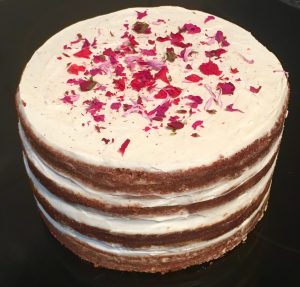 Tea is a common flavor enhancer I use in my baking, Jasmine, Early Grey, Melbourne Breakfast and Green have been featured in my past recipes to name a few.
However, chamomile has only been in 1 of my recipes and not as a feature ingredient (check out my amazing Hazelnut Cake with Spiced Syrup recipe) so when I came up with the idea of doing a floral cake this was the perfect opportunity to use the lovely flower as they hero ingredient.
By combining rose, orange blossom, chamomile and lavender I created a beautifully fragrance-kissed cake that by no means taste like soap! The inclusion of spices compliments the chamomile and offsets the floral sweetness.
Ingredients:
Cake:
450g honey
2 tsn grated orange zest
1 tsn grated lemon zest
3 chamomile tea bags
450g self-raising flour
½ tsn salt
2 tsn ground cinnamon
½ tsn ground mixed spice
½ tsn ground nutmeg
½ tsn ground ginger
160g brown sugar
180ml cooking oil
1 tsn rosewater essence
1 + 1/2 tsn orange blossom water
4 eggs
Syrup:
25g butter
40g sugar
100ml water
Icing:
500g cream cheese
140g icing sugar
1 tsn grated lemon zest
Pinch ground lavender (optional)
Extra:
Method:
Place the honey and zest into a saucepan and stir on a high heat until boiling.
Add the tea bags to the honey mix and stir.
Leave the mix aside for 30 minutes, stirring each few minutes. Remove the tea bags.
Pre-heat the oven to 180c degrees and line 2 x 25cm cake tins with baking paper.
Sift the flour, spices and sugar into a bowl and stir to combine.
Add the oil to the honey mix and stir.
Pour the honey mix into the flour mix and using a hand whisk beat until well combined.
Add the eggs, essence and blossom water and beat with the hand whisk until well combined.
Pour the mix evenly between both cake tins and bake for 40 minutes or until a skewer inserted in the center comes out clean.
Invert the cakes onto a cooling rack until cooled.
Place the icing ingredients into a bowl and using electric beaters whisk for 5 minutes or until fluffy and light.
Cut the cooled cakes in half.
Meanwhile to make the syrup place the butter, water and sugar into a pan and heat on high stirring continuously until the mix is bubbling and slightly thickens.
Take the syrup off the heat and allow to cool slightly.
Using a pastry brush brush the top of 3 cakes on cut side with the syrup leaving the best non cut side layer aside.
Place one cake on a plate and top with ¼ of the icing, repeat with all layers and top with the remaining ¼ icing,
Dirty ice the cake by going around the sides and removing any extra icing.
Top with edible rose pedals and chamomile flowers.
Step 2
Step 5
Step 7
Step 8

Step 9
Step 11
Step 16
Step 17
Like this recipe? Subscribe via RSS or email to get my new entries and more scrumptious recipes with reviews.