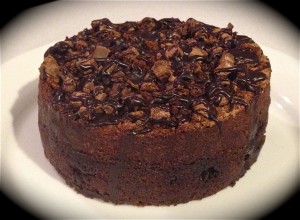 Chocolate Bar Cake
Based on my standards this recipe is actually quite mundane as 'chocolate' bars and cake go together. However don't stress there is an experimental part to this recipe, in fact 2 parts.
One of the main reasons for this recipe came from the desire to make a really moist cake that wouldn't scare people off like my usual baking. My red wine chocolate cake, chocolate zucchini cake and coca-cola chocolate cake are amazingly moist but let's face it they do make some people hesitant. I had a thought that a chocolate bar in a cake (hello nougat, caramel, honeycomb) would provide a moistness.
Secondly, using a chocolate bar means YOU can be the experimenter and incorporate your favorite flavors (your favorite chocolate bar).
I have used Milky May in this recipe but you can substituted this with Mars Bars, Snickers, Cherry Ripe, Turkish Delight, Crunchie… any chocolate bar you like.
This cake is super easy, moist and will impress!
Ingredients:
200g Milky Way (4 bars or 18 snack size bars)
1 cup buttermilk
1 + ½ cup sugar
1 cup butter
3 eggs
1 tsn vanilla extract
1 + ½ cup plain flour
1 tsn baking soda
½ tsn salt
Method:
Pre heat the oven to 175c and line a 25cm cake tin with baking paper.
Dice up the Milky Way bars and place into a pan with ¼ cup buttermilk on the stove on low stirring the mix until the chocolate is melted and smooth.
With electric beaters beat the sugar and butter for 5 minutes until light and creamy.
Add eggs one at a time,and then add the vanilla essence.
Fold in the flour, baking soda and salt until combine.
Add the buttermilk and fold until just combined.
Spoon the mix into the tin and bake for 60 minutes or until a skewer inserted in the middle come out clean.
Allow the cake to cool in tin for 15 minutes than transfer onto a cooling rack until cooled.
Notes:
To decorate I diced up an additional bar and sprinkled on top. Following this I melted chocolate with a little milk to create a thick syrup consistency that I drizzled over the top of the cake and diced bar.
Ingredients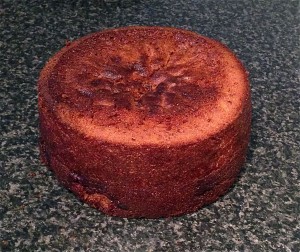 Following step 8 I flattered the top
Then decorated with diced chocolate bar and melted chocolate
Like this recipe? Subscribe via RSS or email to get my new entries and more scrumptious recipes with reviews.