Novelty Chomp Bar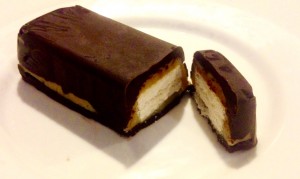 While on holiday at the start of the year a friend professed her love for the chocolate bar Chomp. We were in the supermarket and she saw the Chomp bar, which is quite a rare find and had to have not one but two.
Somehow we got onto the subject of me making a 'chomp cake'…A few bars later and an analysis of the key ingredients that go into the chocolate bar and I was pretty sure I could replicate the bar on a large scale.
Therefore introducing my Novelty Chomp Chocolate Bar.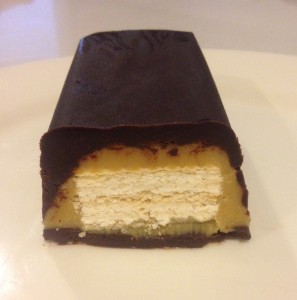 Ingredients:
125g pack of vanilla cream waffers
Chocolate ganache:
50g thickened cream
150g milk chocolate
Caramel layer:
160g brown sugar
95g thickened cream
35g butter
Method:
Line a 15cm x 8cm loaf cake tin with baking paper.
To make the chocolate ganache heat the 50g cream in the microwave in a bowl until boiling.
Add the chocolate to the cream, wait 1 minute then stir the chocolate until a thick and glossy consistency has formed. Place the mix aside in the fridge to cool.
To make the caramel place the sugar and 95g of cream in a pan on the stove and heat on medium stirring until the sugar has dissolved.
Turn the heat up to high and boil for 5 minutes.
Remove the pan off the heat, add the 35g of butter and stir until the mix is glossy and combine. Place in the fridge until the caramel is cooled.
To assemble pour 2/3rds of the chocolate mix into the tin, ensuring you spread the chocolate along the sides as well as covering the bottom of the tin. You need to have all the metal of the cake tin completely covered in chocolate. Place in the freezer for 5 minutes or until set.
To add the caramel layer you need to pour half the mix into the base on top of the chocolate mix.
For the wafer layer place 2×2 waffers in the tin horizontally (long ways). Cut 4 extra wafers to size to ensure complete coverage of the caramel with 2 layers of wafer thickness.
Pour the remainder of the caramel on top of the wafers and spread to ensure even coverage.
Place the tin in the freezer for 5 minutes.
Remove the tin from the freezer and pour the remaining chocolate ganache over the top of the caramel, ensuring even and full overage of the caramel.
Place in the freezer for 20 minute.
To serve turn the tin upside down onto a plate and remove the baking paper from the Chomp Bar.
Cut horizontally and enjoy.
Note:
You will only need 8 waffers for this recipe so if you can find a smaller packet (70g) of waffers it would be ideal.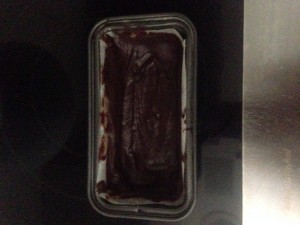 Step 7
Step 8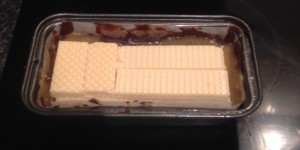 Step 9
Step 10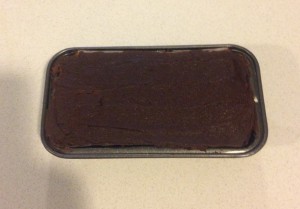 Step 12
Like this recipe? Subscribe via RSS or email to get my new entries and more scrumptious recipes with reviews.