Biscuit Coconut and Jelly Slice
A few weeks ago I went shopping at an Asian grocer and got my hands on Taro Jelly powder. I love Taro and wanted to use this flavour in a cake which got me thinking back to a slice I once made with chocolate, coconut and raspberry layers, where the taro could work as the top jelly layer.
Now, coconut works well with Asian food but the chocolate…that needed to be replaced to a plain flavour. The end result was so interesting with varying textures and beautiful flavour.
However, the best part about this recipe is that it is so substitutable. YOU can be the experimenter and use whatever biscuit you want as well as whatever jelly flavour you like.
This recipe is all about inspiring you to make your own creation. A fan of strawberries and cream? Use a vanilla biscuit as the base, replace the coconut milk with cream and use a strawberry jelly on the top. Or maybe you love cherry ripe? Try a chocolate base with a cream middle and cherry jelly. The variations are endless!
Ingredients:
250g sweet biscuits
100g butter
2 tsn gelatin powder
2 tbsn warm water
I cup thickened cream
1 cup coconut milk
½ icing sugar
85g packet of Taro pudding powder (or any flavor jelly you like)
Method
Grease and line a 20cm square cake tin with baking paper.
Place the biscuits in a food processor until blitzed, pour into a bowl.
Pour the butter melted into the bowl and mix with the biscuits until combined.
Press into the slice tin and place into the fridge.
Place the gelatin into a bowl with the water and whisk to combined (it should look like a yellow tinged gel).
Place the cream, milk and icing sugar on a pot on the stove and whisk ingredients until the mix is warm – not boiling.
Add the gelatin and whisk on medium heat for 3 minutes.
Allow the mix to cool slighting and pour over the biscuit base.
Place back in the fridge and let the layer set for 2-3 hours.
Make the jelly according to the packet directions, let it cool completely then pour over the coconut layer.
Refrigerate for 4 hours or until set.
Notes:
I used Nice biscuits for the base.
If you don't like coconut just use 2 cups of cream instead of the coconut milk.
This is such a simple recipe but you do need to let each layer set so it will take time to make, however 95% of the time is the gelatin setting in the fridge.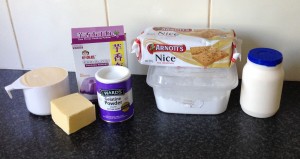 Ingredients
Step 3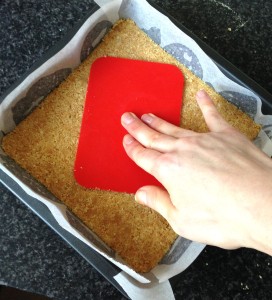 Step 4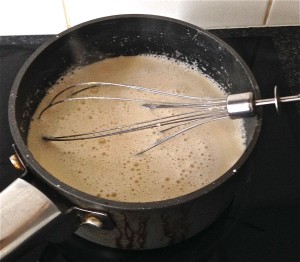 Step 7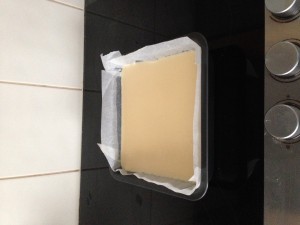 Step 9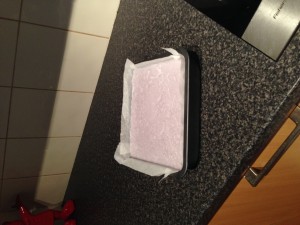 Step 11
Like this recipe? Subscribe via RSS or email to get my new entries and more scrumptious recipes with reviews.