Chia Spiced Crispy Slice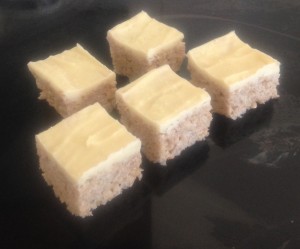 You may have already noticed but I do like the mix of spices that make up chai. I have made amazing chai latte cupcakes and spiced chai cakes (recipe yet to be rleased stay tuned) but have gravitated towards these flavors yet again!
This recipe itself have evolved from a chocolate and chestnut roll cake using marshmallows and rice bubbles to a chocolate and chestnut rice bubble crisp slice to somehow a crispy slice but with chai spices.
To ensure the slice was sturdy I added a white chocolate layer, which actually excelled the chai flavors.
Ingredients:
60g butter
280g vanilla marshmallows
1 tsn vanilla essence
1 tsn ground cardamom
1 tsn ground cinnamon
1 tsn mixed spice
½ tsn ground ginger
¼ tsn ground nutmeg
½ tsn ground cloves
5 cups rice bubbles
Topping:
50g butter
190g white chocolate
Methods:
Line a 20cm x 20cm square slice tin with baking paper.
Place the butter, marshmallows, essence and spices in a bowl and heat in the microwave for 45 seconds or until the marshmallows swell to double size.
With a spoon mix the ingredients until a smooth fluffy paste is made.
Add the rice bubbles to the mix and stir until well combine.
Spoon the mix into the prepared tin and using fingers push the mix down to a solid flat base.
Place the butter in the microwave and heat until bubbling.
Add the white chocolate and leave to melt for 1 minute.
Stir the chocolate mix until smooth and glossy and pour over the top of the rice bubble base.
Place in the fridge for 1 hour to set before cutting.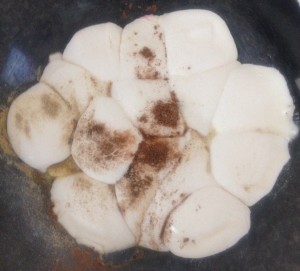 Step 2
Step 3
Step 4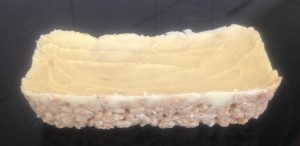 Step 7
Step 9
Like this recipe? Subscribe via RSS or email to get my new entries and more scrumptious recipes with reviews.