Lavender and Blueberry Fudge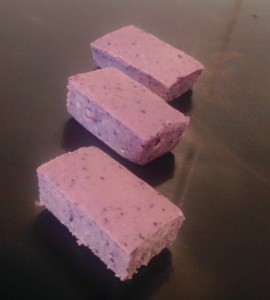 After a flop with my attempt at a Quinoa Lavender cake I was determine to try again with lavender. This time I pulled back on the craziness and really thought about an ingredient that would complement and enhance the lavender flavor.
I've baked with lavender and lemon before so I wanted to try the next best flavor combo that I thought would work, this ended up being blueberries.
With lavender being such a strong and robust ingredient I decided to make a simple fudge that I could constantly tweak to ensure no over kill of the lavender taste.
I'm actually quite impressed with the outcome of my Lavender and Blueberry Fudge, its actually really really tasty and addictive.
The Lavender and Blueberry really work together to produce a gorgeous taste.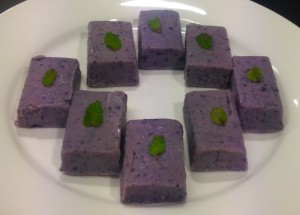 Ingredients:
220g white chocolate
1 tsn dried lavender
80g fresh blueberries
2 tbsn butter
Method:
Line and spray a 4-inch baking tray with baking paper.
Cut the chocolate into small pieces and place in a food processor with the lavender and berries.
Pulse until the mix is well combine and no lumps.
Spoon the mix into a saucepan and heat on medium, stirring constantly until the mix begins to bubble.
Remove off the heat and stir in the butter.
Pour into the prepared tray and place in the fridge overnight (or freezer for a few hours).
Once firm remove from the tin and cut the pieces into 1-inch size squares.
Notes:
I have garnished with mint (which actually goes quite well with the lavender and blueberry flavor).
Step 3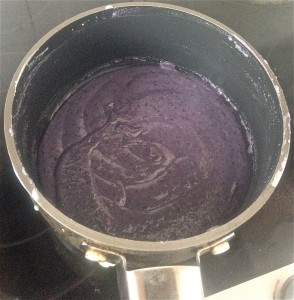 Step 5
Like this recipe? Subscribe via RSS or email to get my new entries and more scrumptious recipes with reviews.