Orange and Blueberry Polenta Cupcakes with Lemon Icing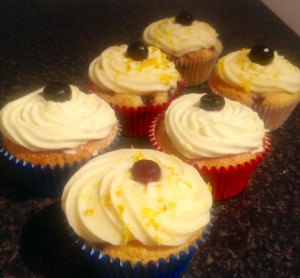 For a variation from the usual cupcake I have incorporating polenta into the mix, while still including self raising flour to allow the cupcakes to rise.
The mix of blueberries, orange and lemon pairing with a hint of almond works a real treat, while the texture of the polenta makes the cupcakes very satisfying.
A welcomed tasty alternative to the usual vanilla or chocolate cupcake that's for sure!
Ingredients:
Cake:
110g instant polenta
200g self raising four
150g sugar
½ tsn baking powder
140g butter, softened
½ tsn almond essence
½ lemon zest
1 orange
1 egg
260g blueberries
Icing:
300g thickened cream
1 tsn lemon zest
1 tbsn icing sugar
Method:
Pre-heat the oven to 160c degrees and place large cupcake patties in a cupcake tray.
Place the polenta, flour, sugar, baking powder, butter, zest of a whole orange and zest of half the lemon in a bowl and rub to combine with hands until a dough is formed.
In a separate bowl place the egg, almond essence and 2 tbsn of orange juice. With a hand whisk combine the wet ingredients then pour into the dry ingredients.
Beat with the hand whisk to combine.
Place 45g of batter into each cupcake case.
Push 10 blueberries into the batter of each cupcake.
Bake in the oven for 30 minutes of until a skewer in the center comes out clean.
Remove the cupcakes from the tin and leave aside to cool.
To make the icing whisk with electric beaters the butter for 5 minutes until creamy.
Add in the cream, icing sugar and lemon zest and beat until peaks form.
Using a star nozzle and piping-bag pipe each cupcake with icing.
Decorate with extra orange zest and a blueberry on the top.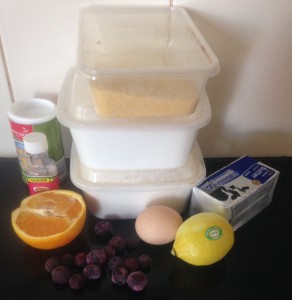 Ingredients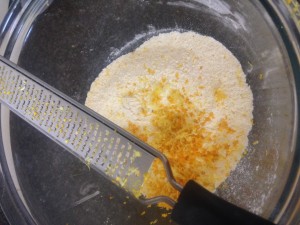 Step 2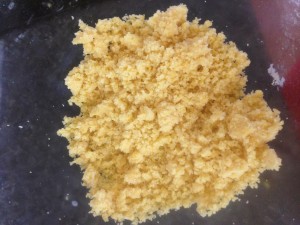 Step 2
Step 3
Step 5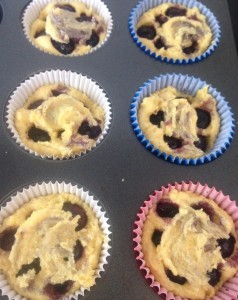 Step 6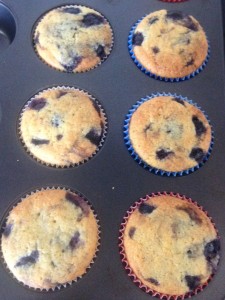 Step 7
Like this recipe? Subscribe via RSS or email to get my new entries and more scrumptious recipes with reviews.