Port Black & Blue Berry Pudding

I very rarely bake with blackberry, in fact it tends to be one of the last berries I'd consider. However, Port on the other hand tends to appear in my recipes time and again, particularly to enhance chocolate depth.
Considering my go to Port is red, in which holds a strong raspberry, blackberry and chocolate flavor I thought that leveraging the berry pairing with this sweet dessert wine was a good way of boosting the blackberry palate.
Adding the blueberries to the mix taps into the earthiness of the port and blackberry and compliments.
Lastly, the lemon zest acts as an enhancer to the unique flavors already-present and adds some additional oomph.
All up when I came up with this recipe I thought it could have a potential to be a boring and so-so outcome, however it turned out to be the opposite. A dessert I was going to 'sample' with a small spoonful, however in reality I couldn't put it down and ate the whole pudding in a matter of seconds. A sure sign that the desert is a super success.
Batter:
80g butter
200g blackberry jam
120g milk
1 tsn lemon zest
120g blueberries
140g self-raising flour
80g sugar
Sauce:
80ml water
40ml Port
40g sugar
40g blackberry jam
Extra:
Method:
Pre-heat the oven to 160c degrees and spray 4 x 1 cup ramekins with oil spray.

Place the butter in the microwave in a bowl and heat until the butter is melted.

Add the jam and beat with a hand whisk until combine.

Add the milk and lemon zest and beat until combine.

Sieve the flour and sugar into the mix and beat with the hand whisk until combine.

Add the blueberries and stir until well combined.

Pour the mix evenly into the 4 ramekins.

Place the sauce ingredients into a bowl and heat in the microwave until the mix just starts to boil, beat with a hand whisk until well combined.

Pour the syrup over the back of a spoon over the batter in the ramekins.

Bake in the oven for 25 minutes or until the top if the pudding is set and crisp.

Meanwhile beat the cream with electric beaters until peaks form.

Leave the puddings for 5 minutes before serving with a dollop of the cream and extra berries if you desire.

Step 5

Step 7

Step 9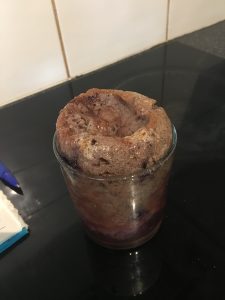 Step 10

Step 11

Step 12
Like this recipe? Subscribe via RSS or email to get my new entries and more scrumptious recipes with reviews