Multi-layer citrus cake
I have absolutely no idea where this recipe came from and what possessed me to go crazy experimenting with variations of citrus fruits in a cake.
I had been investigating to find the best possible buttercake recipe to be able to use as a base for some of my recipe experiments and after finally creating a recipe that I though was amazing I started to think of ingredients I could add.
As mentioned above I don't know what made me think Citrus, however, I was on a run and came up with the concept of creating heaps of different citrus fruit layers for a cake using only zest and seeing what the taste outcome would be.
I did try many different layers, tangerine, lime, lemon, mandarin, orange, grapefruit and clementines. The outcome orange, lemon, mandarin and lime are the tastiest combination that packs a flavour punch in every bite!
Ingredients:
Cake:
260g butter
2 cups sugar

4 eggs
1 + ½ cup cake flour
1 + ½ cup plain flour
1 tsn baking powder
½ tsn bicarbonate soda
1 cup milk
1 tsn vanilla essence
1 lime (you will need 2 tsn of zest)
1 mandarin (you will need 2 tsn of zest)
1 lemon (you will need 2 tsn of zest)
1 orange (you will need 2 tsn of zest)
Green, yellow and orange food coloring (optional)
Icing:
270g butter
3 cups icing sugar
1 tbsn milk
Method:
Grease and line 2 x 24cm cake tins and pre-heat the oven to175c.
Using electric beaters, cream butter and sugar for 5 mins until creamy and smooth.
Add eggs one at a time beating between each addition.
Sift in the flours, powder and soda. Add the milk and vanilla beat on slow until just combined (do not over beat).
Divide the batter equally into 4 bowls.
Add the lemon zest and yellow food coloring to one. Lime zest and green coloring to another bowl. Add mandarin zest and orange to another bowl and the orange zest to the last.
Pour 2 bowls batter into 2 tins and bake for 15mins until a skewer inserted come out clean.
Cool in the pan for 5 mins then place on a cooling rack.
Using the same tins pour the last 2 batters into the tins and bake for 15 mins.
Cool in ban for 5 mins then place on a cooling rack.
To make the icing beat the butter, sugar and milk for 10mins until fluffy and creamy.
Once the cakes are cooled place the orange layer onto a plate and spread a layer of icing on top. Add the lemon layer and top with icing. Add the mandarin layer and top with icing then the lime layer. Top with icing and using the remainder of the icing spread around the sides of the cake.
Notes:
Like this recipe? Subscribe via RSS or email to get my new entries and more scrumptious recipes with reviews.
Ingredients
Step 4
Step 6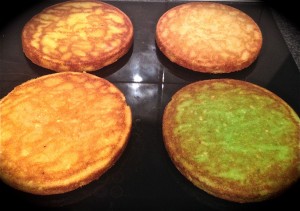 Step 10