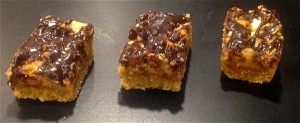 Nut Caramel and Chocolate Slice
Caramel slice has been a favorite slice for many for years. Nut caramel bars of late are also quite popular. As both of these sweet treats involve caramel with either biscuit, nuts and chocolate layers I figured combining them together would work quite well. I have made similar recipes to this in the past, however this is by far the most tastiest caramel slice, where the nuts actually bring in a great neutralizer to the sweetness of the caramel.
Ingredients:
1 cup desiccated coconut
1 cup SR flour
1 cup brown sugar
125g melted butter
395g can condensed milk
2 tbs golden syrup
½ cup cream
15g butter, extra
2/3 cup chopped mixed nuts
¾ cup milk chocolate
15g cream, extra
Method:
Pre-heat oven to 180c. Grease and line a 28cm x 20cm cake tin with baking paper.
Combine the coconut, flour, sugar and butter in a bowl. Mix together then press into the tray until flat and smooth.
Bake in the oven for 10 minutes, cool in tin.
Combine the milk, syrup, cream and butter in a saucepan. Bring to the boil and then simmer for 8 minutes stirring constantly until darker and thick.
Pour the caramel over the base, sprinkle with the chopped nuts and place back in the oven for 10 minutes or until golden. Allow the slice to cool in the tin.
Place the cream and the chocolate in a microwave on low stirring every 20 seconds with a metal spoon until chocolate is smooth and creamy.
Drizzle the chocolate over the slice, let it set and slice away.
Like this recipe? Subscribe via RSS or email to get my new entries and more scrumptious recipes with reviews.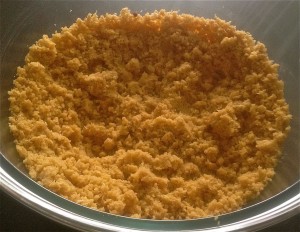 Step 2
Step 5