Chocolate Vegemite Cupcakes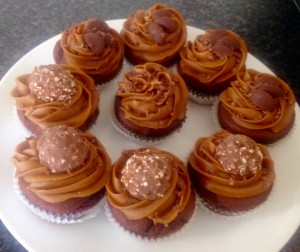 Ok so I know this doesn't sound that great but hear me out. I have made some weird baking combos with chocolate…chocolate bacon, chocolate zucchini, chocolate cocoa-cola, chocolate red wine…and the list continues…
So I ask you, have I ever failed you before? Two of the above cakes mentioned were the moistest and luscious cakes I have ever made. While the bacon and cocoa-cola cakes, well they both amplified the chocolate flavour and created chocolate intenseness!
Not a fan of vegemite? As I mentioned the vegemite amplifies the chocolate so don't be scared and give it a go!
This is an addictive treat, particularly the caramel-vegemite icing!
Ingredients:
140g brown sugar
2 eggs
85g butter
35g vegemite
130g milk
100g dark chocolate
250g plain flour
25g cocoa powder
1 tsn bicarbonate of soda
1/ tsn baking powder
Icing:
140g butter
300g icing sugar
100g brown sugar
5 tsn vegemite
Method:
Pre-heat the oven to 180c degrees and line a medium sized cupcake pan with 20 paper cases.
Place the chocolate in a saucepan over boiling water and stir until the chocolate is melted, set aside to cool slightly.
Beat the sugar and butter with electric beaters until creamy and caramel in colour.
Add the eggs one at a time, beating with each addition.
Add the vegemite, milk and melted cooled chocolate and beat until well combine.
Sift in the flour, cocoa powder, soda and baking powder and beat until well combine and caramel silky smooth in texture and colour.
Spoon the mix into the 20 paper patty cases then place the cupcakes in the oven for 20minutes or until a skewer inserted in the center comes out clean.
Allow the cupcakes to cool for 10 minutes in the tin then remove and place on a cake rack to cool completely.
Meanwhile, to make the icing place the butter, vegemite and brown sugar on the stove on a medium heat.
Stir the mix on the heat until the sugar has melted and the mix is fully combine.
Once the caramel mix has cooked place into a bowl, sift in the icing sugar and beat with electric beaters until light and fluffy.
Spoon the icing into a piping bag fitted with a star nozzle and pipe on the top of the cooled cupcakes.
Notes:
I have decorated with shaves chocolate, chocolate pieces and Ferrero's.
Don't be scared off by the Vegemite, it complements the chocolate and extends the flavour without overpowering.
Step 3
Step 6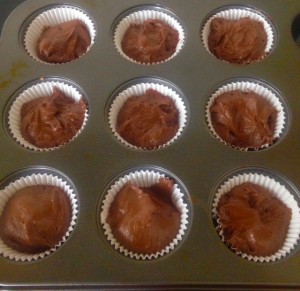 Step 8
Step 9
Like this recipe? Subscribe via RSS or email to get my new entries and more scrumptious recipes with reviews.