Peanut Butter and Jelly Slice Sandwiches
You may have noticed by now that I do love to play with American style flavor favorites, (see my Devils Food Cake, Chocolate Bacon Cake with Maple Frosting, Spiced Pumpkin Pie, Hummingbird Cake to name a few). The whole savory and sweet combo they commonly serve is so interesting, something we don't see much in Australia.
One thing I have yet to experiment with is their famous peanut and jelly (jam in AUS) sandwich, I don't even think I have ever tasted one in my life.
So true Ella style instead of first tasting I threw myself into experimenting with this concept to incorporate these 2 key ingredients in a sweet baking tread.
I must say I attempted 3 versions of this…Originally I made a 3 layered slice with a peanut butter, a jelly and a white chocolate crumble topping slice. I wasn't happy with this so I attempted it again with just the 2 layers and omitted the crumble layer – as suspected the jam turned into a toffee texture without the crumble layer to protect it.
As the peanut layer was absolutely delectable and satisfying I decided to slice pieces in half like 2 pieces of bread and with thick jelly (jam) placed in the center to sandwich the peanut slice together.
Outcome…better that expected – absolutely scrumptious! Best part (bar the taste) this is sooo easy to make! Below is the recipe to me easy Peanut Butter and Jelly Slice Sandwiches.
Ingredients:
½ cup butter
½ brown sugar
¼ cup white sugar
300g peanut butter
1 egg
1 tsn vanilla extract
1 + 1/2cup plain flour
½ tsn baking powder
½ tsn salt
½ tsn cinnamon
1/2 cup thick raspberry jam
Method:
Preheat the oven to 175c and line a 20cm square baking tray with baking paper.
In a bowl using electric beaters beat butter and sugar for 5 minutes until thick and creamy.
Add the peanut butter, egg and vanilla essence, beat.
In another bowl mix together the flour, powder, salt and cinnamon.
Using a spoon carefully fold the dry ingredients into the wet mix until just combined.
Spoon the mix into the tray and smooth out.
Cook for 35 minutes or until golden.
Allow the slice to fully cool then cut the slice horizontally through the middle.
Place the bottom layer back into the tray and spoon the thick jam to cover the bottom layer.
Place the second layer on the top of the jam to create a peanut slice sandwich with jam in the centre.
Allow to set in the fridge for 2 hours before removing from the tray and cutting the slice into bars.
Notes:
You can use whatever flavor jam you prefer, though raspberry is the most traditional.
The jam does need to be quite thick. If its not heat it in the microwave or on the stove until bubbling hot then whisk in 1 tsn of gelatine powder. Allow to cool, then follow on from step 9.
Step 3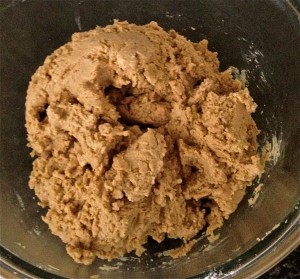 Step 5
Step 6
Like this recipe? Subscribe via RSS or email to get my new entries and more scrumptious recipes with reviews.