Ovaltine Biscuits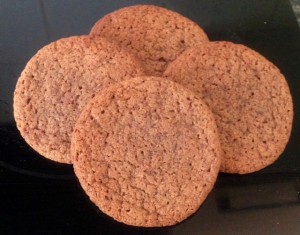 In the milk flavoring isle of the supermarket I noticed a product that reminded me of my childhood, that I had actually forgotten still existed.
As a primary schooler I do remember getting a packet of Ovaltines in my lunchbox as a treat, however since then have not come across this malt product. Seeing this product and recalling the flavor made my decide I had to bake with this product as a feature ingredient.
So I made an Ovaltine cake, how ever I was not  happy with the end result as the Ovaltine made the cake too dense and quite flat.
As a secondary trial with the ingredient I attempted Ovaltine icing, this was good but I wanted to make something more robust.
Therefore as a third attempt I decided to make biscuits. As the Ovaltine made the cake too dense in texture I though the Ovaltine would make the biscuits nice and chewy (like Anzac biscuits). Finally success and yes they are deliciously chewy with a lovely Ovaltine malt taste!
Ingredients:
200g brown sugar
200g butter
2 eggs
2 tsn vanilla essence
1 tbsn milk
150g Ovaltine
270g plain flour
1 tsn baking powder
Method:
Preheat oven to 180c and line 2 baking trays.
Using electric beaters beat the sugar and butter until light and fluffy.
Add in the eggs, beating in between each addition until pale and creamy.
Add the vanilla and milk, beating in between each addition.
In a separate bowl combine the Ovaltine, flour and powder, whisk to mix.
Sift the dry ingredients into the wet mix and using a spatula folder the dry ingredients into the wet until combine.
Roll ½ tbsn of mix into balls with wet hands and place on the trays.
Bake for 8 minutes then allow biscuits to cool on the tray.
Notes:
If you don't like Ovaltine you can replace with Milo or Nesquick milk flavouring products. But this is an Ovaltine recipe so have a go with Ovaltine first! Trust me!
Ingredients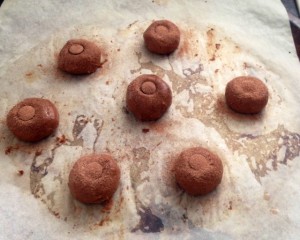 Step 7
Like this recipe? Subscribe via RSS or email to get my new entries and more scrumptious recipes with reviews.