Coffee Almond and Marsala Cake
I am a massive massive fan of Tiramisu. In fact my mum's Tiramisu is the best dessert I have ever tasted in my life.
I do like the taste of coffee, however I think it is the mix of coffee and the Marsala that together make the most amazing flavour. Considering I have a big sweet tooth and this is actually not the most sweetest of desserts out there the flavour combo must be brilliant (which of cause the Italian's have known for centuries).
To take this to the next level and turn it into a sweet treat that's a little more friendly to eat (let's face it Tiramisu is not the easiest dessert to plate up and eat without a bowl), I have created a cake with the flavour combo and added in a few complementary additions.
So keeping with the alcoholic trend of this dessert and amplifying the flavour (and inevitability alcohol) I have added in the not so traditional inclusions of Kahlua for extra coffee flavour and Amaretto for an almond flavour (which works like magic with coffee and Marsala).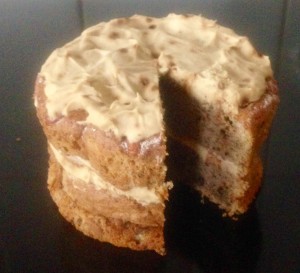 Ingredients:
30g coffee beans
5 eggs
175g sugar
110ml Marsala
1 + 1/2 tbsn Kahlua
1 tbsn Amaretto
75g butter
115g almond meal
115g flour
Topping:
200g thickened cream
20g icing sugar
2 tsn Kahlua
1 tsn Amaretto
100g mascapone cheese
Method:
Pre-heat the oven to 160c degrees and line a 20cm cake tin with baking paper.
Place the coffee beans on a tray and roast in the oven for 5 minutes until you smell the beans aroma. Place aside.
Place the beans in a food processor and blitz until fine.
Beat the egg yolks and 120g sugar in a bowl with electric beaters until thick and pale.
Stir in the coffee, Marsala, melted butter and almond meal to the yolk mix until smooth.
In another bowl beat the egg whites with the remaining sugar.
Fold the egg whites, Kahlua and Amaretto into the almond mix until just combine.
Pour the mix into the cake tin and bake for 1 hour or until a skewer inserted into the centre of the cake comes out clean.
Leave the cake for 5 minutes then place on a cooling rack.
Place the cream and sugar in a bowl and beat with electric beaters until peaks form.
Beat the mascapone cheese until smooth add the Kahlua and Amaretto and beat until combine.
Carefully fold in the mascapone cheese into the whipped cream mixture.
Cut the cake in 3 horizontally, spread 1/3rd of the cream mix in between the 2 layers and the remaining on the top of the cake.
Step 4
Step 5
Step 6
Step 7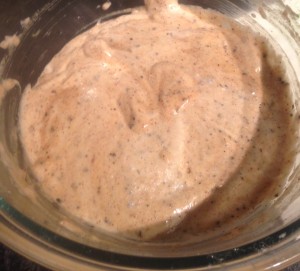 Step 7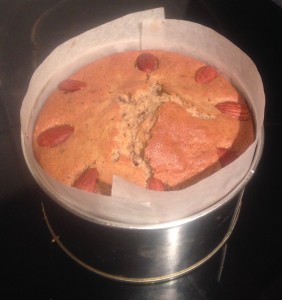 Step 9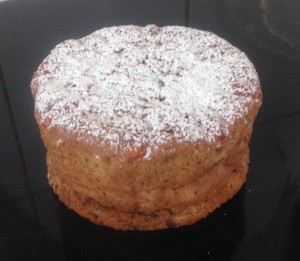 Like this recipe? Subscribe via RSS or email to get my new entries and more scrumptious recipes with reviews.