Cappuccino and Chocolate Roulade Cake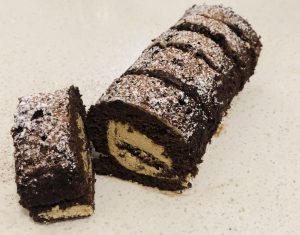 When it's cold and rainy on a Sunday afternoon and you can't be bothered going to the shops…you look in the pantry for baking inspo…which is how this recipe came about.
I felt like making a cake but wasn't sure what exactly, so I looked inside the pantry for what ingredients, products and what random filled containers I had.
Milo, drinking chocolate, coffee sachets and tea stood out.
A coffee sachet, drinking chocolate sachet and fruity herbal tea test and the end result was a cappuccino sachet inspired filled chocolate sponge cake. This cake is def cappuccino and not coffee in flavour…the powder makes this flavour differentiation very clear thanks to the smooth milky like tone. Very tasty!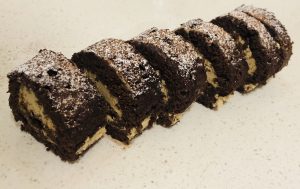 Ingredients:
Sponge cake:
4 eggs
100g brown sugar
30g cocoa powder
75g plain flour
80g dark chocolate
Cream:
45g of instant cappuccino sachets (I used 3 x Nescafe)
150ml thickened cream
60g icing sugar
Method:
Preheat the oven to 180c degrees and line a 20cm x 30cm cake tin with baking paper.
Beat the eggs for 2 minutes with electric beaters of until pale and creamy.
Gradually add in the sugar, beating while slowly adding the sugar until it has dissolved.
Sieve the cocoa powered and flour into the egg mix and fold until just combine.
Place the chocolate broken into pieces into a bowl and then into the microwave on medium for 30 second bursts until the chocolate has melted.
Fold the melted chocolate into the mix.
Spoon the mix into the tin and even with the back of a spoon.
Bake for 12 minutes or until a skewer in the centre comes out clean.
Cut a piece of extra baking paper and invert the cake onto the paper.
Remove the baking paper off the top of the cake.
Roll the sponge starting with the long side of the sponge closest to you int0 a cylinder shape, rolling with the paper between. Leave the sponge wrapped until cool.
To make the cream place all the ingredients into a bowl and whisk with electric beaters until peaks form.
Carefully unroll the cake, slightly trimming the ends of each side.
Place the sponge on cling wrap and spread the cream over the sponge, leaving a 1cm border without cream.
Roll the sponge back up and wrap with the cling wrap firmly.
Place the roll in the fridge for 1+ hour to set.
To arrange unwrap the roll and place on a platter, cut the 2 ends and disregard, dust with cocoa and icing sugar and cut into 3cm roll portions.