Fairy Cake Fudge
If you follow my blog weekly you will note a few things; I bake with unusual ingredients, I'm a big fan of  Italian desserts, I love to bring back childhood flavours and I 'mix and match' tastes and textures. Therefore this next recipe will come as no surprise as it follows my baking style to a T.
After my lavender and blueberry fudge I realized this is the only fudge recipe I have ever made up so I decided to play around and think up another fudge recipe to post.
When I was young my ultimate favourite food was fairy bread, surprise surprise – have I ever said I have a sweet tooth :).
Sprinkles with butter on white sweet bread…its pretty much a dessert to be honest. So I decided I would give fairy bread a makeover and turn it into a fudge. With a vanilla 'bread' tasting base, butter and sprinkles…this resulted in my Fairy Cake Fudge.
Ingredients:
3 cups (1 box vanilla cake mix)
1 cup icing sugar
½ cup butter
¼ cup milk
¼ cup sweetened condensed milk
¾  cup sprinkles
Method:
Line a 20cm x 20cm cake tin with baking paper and pre-heat the oven to 175c.
Mix the cake mix, icing sugar, milk, butter and condensed milk in a microwave safe bowl.
Place the bowl in the microwave for 2 minutes.
Remove and mix in with ½ cup of the sprinkles.
Pure into the prepared tin and then scatter the remaining ¼ cup sprinkles over the top of the fudge.
Place in the oven for 5 minutes or until the fudge shows a slight rises on the sides.
Place on the bench to cool, then in the fridge overnight.
Cut into 3.5cm square pieces and enjoy.
Notes:
The oven step is not critical but will harden the top sprinkles into the fudge and produce a hard top to the fudge.
3 cups of cake mix is the average amount in most cake mix boxes. If your mix has less you can subtitle with more icing sugar.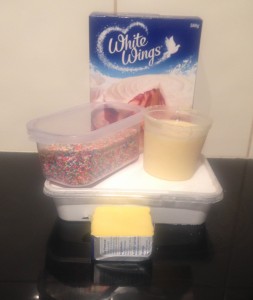 Ingredients
Step 3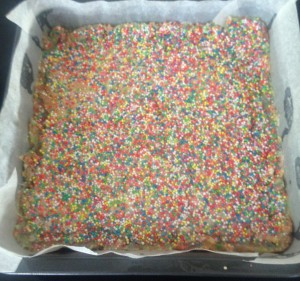 Step 6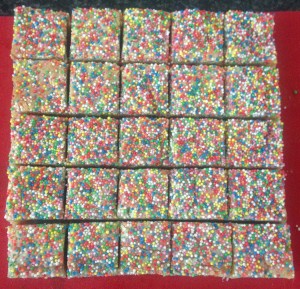 Step 8
Like this recipe? Subscribe via RSS or email to get my new entries and more scrumptious recipes with reviews.