Bourbon Chocolate Cake with Peanut Bourbon Icing
Every now and then I dabble with varying types of alcoholic beverages in my baking. Recently with rum (though technically it was really rum essence not actually rum..shhh), Frangelico, Red wine, Baileys, and the list continues…
So many spirits have such amazing distinctive flavors that are generally forgotten until we buy a random happy hour half price cocktail!
I had recently had a spirit that was an old favorite when I was younger, this being the old Jim Beam Bourbon. Though its flavor is by no means sweet, it does hold an interesting smokiness that I was captivated to put up against sweet tasting dark chocolate.
Therefore, hello my Bourbon Chocolate Cake with Peanut Bourbon Icing (peanut butter added to the icing for an even more unusual but wonderful twist that really works)!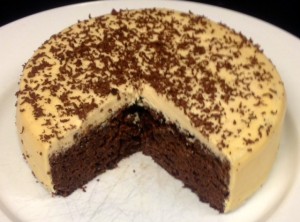 Ingredients:
Cake:
2 tbsn bourbon
140g butter
60g cocoa powder
2 eggs
80g buttermilk
100g almond meal
100g plain flour
1 tsn baking powder
1/4 tsn bicarbonate of soda
200g brown sugar
75g caster sugar
Icing:
60g butter
1 tbsn bourbon
½ tsn vanilla essence
50g peanut butter
1 cup icing sugar
2 tsn milk
Method:
Preheat the oven to 160c and line a 23cm-baking tray with baking paper.
Place the butter and bourbon in a bowl and heat in the microwave until the butter is melted. Whisk to combine.
Now whisk in the cocoa until the mix is silky smooth.
Place the eggs and buttermilk in a separate bowl and whisk until combine.
Add the almond meal, flour, baking powder, bicarb and sugars in a 3rd bowl and whisk to combine.
Add the bourbon mix and the egg mix to the flour mix then whisk until combine.
Pour the mix into the cake tin and bake for 45-50 minutes or until a skewer in the center comes out clean.
Place the cake on a cooling rack.
To make the icing combine all ingredients together and beat with electric mix for 7 minutes until light and fluffy.
On a cooled cake spread the icing all over, serve.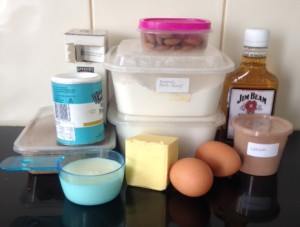 Ingredients
Step 3
Step 6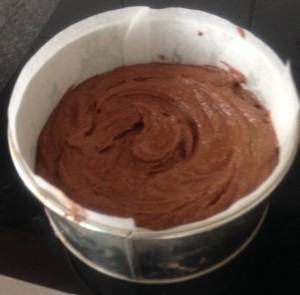 Step 7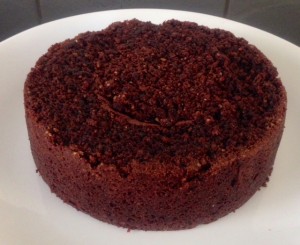 Step 8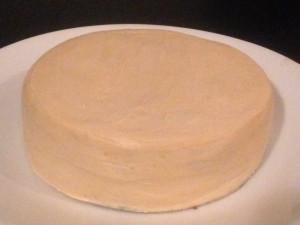 Step 10
Like this recipe? Subscribe via RSS or email to get my new entries and more scrumptious recipes with reviews.