Strawberry and Watermelon Couscous Cake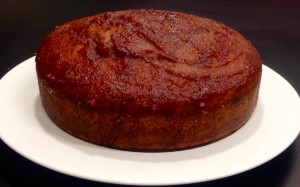 If you are a frequent visitor to my blog you would have caught on that I do like to bake with many varying grains and textures. for example Semolina and Polenta appear in my recipes on multiple occasions.
However, I am always looking for new and interesting ingredients to experiment baking with (new – meaning new for me or uncommon in general to bake with).
After going to dinner and having a friend eat a couscous meal with sweet accompanying sultanas and orange it got me thinking of baking a cake with couscous.
I thought it would have a similar property to semolina or polenta, where it would cook within the cake and soak up the moisture.
From here I figured a solution could be to make syrup to replenish the cake afterwards. Furthermore, I have been meaning to bake with watermelon for ages and as this fruit is full of liquid goodness it would be perfect for syrup making.
After a few attempt's my Strawberry and Watermelon Couscous Cake is amazingly textured (you won't know there is couscous) and when warm is exactly textured like a pudding! And the taste scrumptious! This cake was gone in seconds!
Ingredients:
295g plain flour
¼ tsn salt
1 tbsn baking powder
120g couscous
230g butter
200g sugar
6 eggs
1 tsn vanilla essence
2 tsn strawberry essence
1 tsn lemon zest
160g strawberries
Syrup:
750g watermelon flesh (approx. 1.5g of watermelon)
200ml water
250g sugar
2 tsn lemon juice
90g strawberries
Method:
Preheat oven to 160c and line a 23cm spring form baking tin with baking paper.
Place the flour, salt, powder and couscous in a bowl and whisk until well combine.
Using electric beaters beat the sugar and butter until light and fluffy.
Add in the eggs, beating in between each addition until pale and creamy.
Add the vanilla, strawberry essence and lemon zest.
Place the strawberries into a food processor and pour 160g into the wet mix. Beat to combine.
Sift the dry ingredients into the wet mix and beat until just combine.
Pour into the cake tin and bake in the oven for 50mins or until a skewer inserted in the center comes out clean.
To make the syrup, place the watermelon in a food processor and run through a sieve into a pan.
Add the sugar, water, remaining strawberries and lemon juice into the pan.
Gently heat until the sugar is dissolved then increase the heat boil, then bring to a simmer for 10 mins until the liquid is syrupy.
Using a skewer make holes all over the surface of the cake then pour the syrup over the top of the cake evenly.
Leave the cake to cool completely in its tin.
Once cooled remove the cake from the tin.
Notes:
You will need 250g packet of strawberries and 1.5kg of watermelon for this recipe.
You will have approx. 4 cups of syrup liquid. This may look like a crazy amount but trust me you need this. The couscous will soak up all the moisture in the cake so you need to add this to replenish it again.
You are best adding the syrup to the cake while it is still hot to allow the liquid to seep through the whole cake and not just the top.
This cake is best eaten the next day (stored in the fridge) and served warm.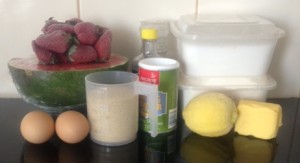 Ingredients
Step 4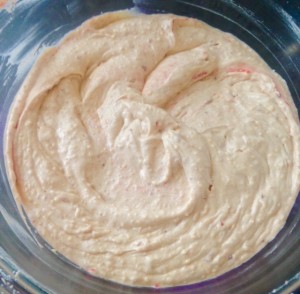 Step 6
Step 8
Step 9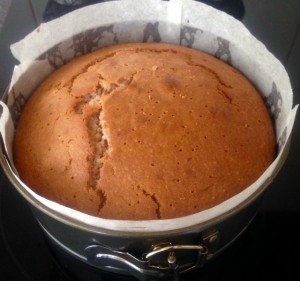 Step 12
Step 14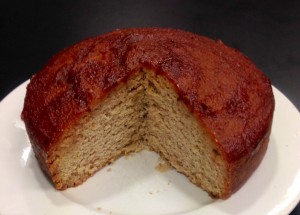 Like this recipe? Subscribe via RSS or email to get my new entries and more scrumptious recipes with reviews.