Fig and Grape Syrup Cake
To challenge myself I am always adding to the list of fruits (and some vegetables) that I am yet to bake with, where I am slowly but surely getting my way through the list.
This cake quite simply incorporates 2 fruits I have not baked with previously that I felt could pair well together and that they certainly did!
Grapes as the core cake ingredient does sound a little bazaar and to make it ever more weird sounding the addition of a date syrup…but trust me this does work.
This recipe is the culprit for my recent fixation with figs (which will become evident soon enough), which was such a delightful cake to eat.
Ingredients:
Cake:
225ml sherry
200g brown sugar
130g butter
1 orange
1 lemon
340g grapes
225g plain flour
1 tsn baking powder
Syrup:
40g dried fig
80g sugar
2 tbsn honey
½ tsn ground ginger
Method:
Pre-heat the oven to 180c and line a 23cm cake tin with baking paper.
Pour the sherry into a pan on the stove and boil on medium heat. Once boiled reduce heat and simmer for 5 minutes or until the mix reduces to 160ml.
Remove Sherry off the heat and set aside.
With electric beaters beat the sugar, butter and zest of the lemon and orange until thick and creamy.
Using a food processor blitz 160g grapes until liquefied.
Add the blitzed grape mix to the sherry and then add to the butter mix.
Sift in the flour and baking powder into the butter mix then fold until the mix is well combine.
Spoon the batter into the cake tin, using the back of the spoon flatten.
Cut the remaining (180g) grapes in half and place the grapes on the top of the cake – cut side up.
Bake for 50 minutes or until a skewer inserted in the middle comes out clean.
To make the syrup, dice the figs up and place them in a saucepan on the stove with the sugar, 300ml of water, the honey and the ground ginger.
Stir on medium until the mix boils then continue boiling for 5 minutes of until the mix becomes thicker and syrupy.
Once done remove off the heat and pass through a sieve to remove fig pieces.
Once the cake is cooked, using the skewer poke holes in the top of the cake and pure in the syrup over the cakes evenly.
Leave the cake in the tin to cool then serve with fig pieces scattered on top.
Notes:
40g dried fig is around 2 dried figs.
If you don't have Sherry you can replace with any other sweet wine such as Port or Brandy.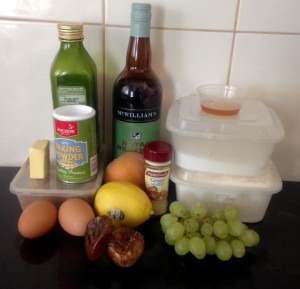 Ingredients
Step 5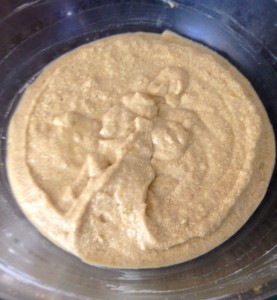 Step 7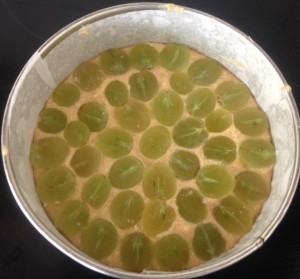 Step 9
Step 11
Step 12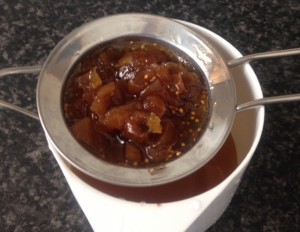 Step 13
Step 14
Like this recipe? Subscribe via RSS or email to get my new entries and more scrumptious recipes with reviews.