Malibu Rice Doughnuts
This little doughnut (though not really a doughnut) is a mix of a few recent baking treats I have played with. I basically took elements of some recipes I have trialed to make a unique, quirky and tasty sweet treat.
Not a fluffy usual doughnut you would eat, more a fritter, though fried and round like a doughnut with a little special something in the middle.
I wanted to take the texture of creamed rice and turn this into a doughnut backed full of a flavour infusion.
Therefore I decided to make a doughnut with rice and infuse the summer time pina-colada flavours such as coconut, rum, a little citrus and of course a big pineapple hit (or surprise in this case).
Thus introducing my Malibu (Pineapple surprise) Rice Doughnuts!
Ingredients:
550g milk
250g rice (arborio or sushi rice)
30g butter
1 tsn vanilla essence
1 lemon
140g plain flour
110g sugar, plus 130g extra
2 eggs
½ tsn bicarbonate of soda
4 tsn rum essence
1 tsn coconut essence
140g can pineapple pieces
Oil for frying
Method:
Bring the milk, rice, butter, vanilla essence and the zest of the lemon to the boil in a saucepan.
Stir the mix over a medium heat until the mix boils.
Turn the heat to low and simmer, covered for 15 minutes or until most of the liquid is absorbed. Stir occassionaly.
Remove off the heat and set aside covered for 10 minutes.
Now place the cooked mix in a bowl and set aside to completely cool.
Add the flour, sugar, egg, soda, rum and coconut essence to the rice mix and stir to combine.
Place in the fridge for 3 hours to completely set.
Once the mix is set, with wet hands roll the mix into 30g balls, poke a hole in the middle of the ball and place a piece of pineapple in the middle.
Push the sides of the ball in the hole to seal the pineapple in and roll again with your hands to ensure a ball shape. Repeat with the whole mix. No pineapple should be showing or gaps.
Heat the oil in a large saucepan to 160c degrees.
Place the balls (no more than 6 at a time) in the oil and fry in batches for 3 minutes or until the balls are golden.
Place the cooked balls onto absorbent paper towel on a plate.
place the extra 130g sugar in a bowl and roll the balls to cover the doughnuts completely.
Enjoy!
Notes:
The pineapple piece should not be any bigger than a 5-cent piece.
Step 7
Step 8
Step 11
Step 11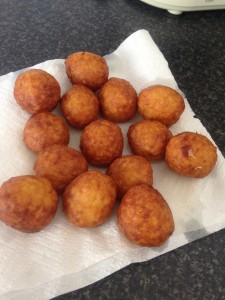 Step 12
Like this recipe? Subscribe via RSS or email to get my new entries and more scrumptious recipes with reviews.