Jam Doughnut Cupcakes
I have made jam doughnuts before, both fried and baked, and though they have turned out delicious they are quite a bit of work…proving…pushing back…rising…hours of waiting…
I wanted to make something that was easy quick and tastiest as close to a jam doughnut as possible.
My solution to this? Hello jam doughnut cupcake. This sweet treat is a mix between doughnut batter and cupcake batter with the traditional jam in the center.
Yes these are baked therefore the texture is different to a usual doughnut but I have kept the butter and sugar cinnamon element alive.
Lastly, true to a cupcake mandatory I have made a jam frosting for extra creaminess and jam emphasis.
Ingredients:
Cupcake:
310g self raising flour
70g plain flour
180g sugar, plus 2 tbsn extra
110ml cooking oil
2 eggs
240ml milk
1 tsn vanilla essence
150g raspberry jam
Icing:
60g butter, plus 40g extra
70g raspberry jam
120g icing sugar
1 tsn cinnamon
Method:
Pre-heat the oven to 200c degrees and line 18 medium cupcake patties into a medium sized cupcake tin.
Sift the flours and sugar into a bowl and make a well in the center.
In a separate bowl place the oil, eggs, milk and vanilla. Whisk with a hand whisk until well combined.
Pour the oil mix into the flour mix and beat with the hand whisk until well combined.
Spoon half the batter into the 18 cupcake patty cases.
Spoon the 70g of jam evenly into the middle of the cupcake patties on top of the batter.
Spoon the remaining batter on top of the jam, covering the jam completely.
Bake the cupcakes in the oven for 15-18 minutes or until a skewer inserted into the middle comes out clean (being mindful of the jam in which should still be of jam consistency).
Place cupcakes onto a cooling rack until cold.
Use a pastry brush to brush the cupcake tops with the 50g of melted butter.
Sprinkle the 2 tbsn of sugar and the 1 tsn of cinnamon into a bowl and stir.
Place the cupcake top side down onto the cinnamon sugar bowl and push to coat the top of the cupcake well.
Place the icing ingredients into a bowl and using electric beaters beat until light and fluffy.
Using a piping bag fitted with a star nozzle pipe the icing onto the cupcakes.
Enjoy!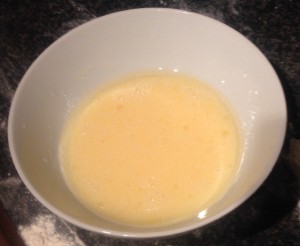 Step 3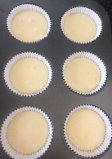 Step 5
Step 6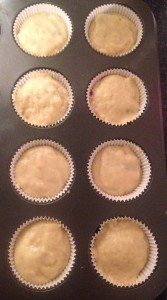 Step 7
Step 9
Step 10
Step 12
Step 14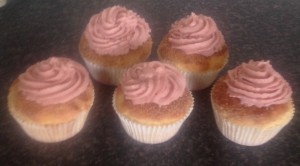 Like this recipe? Subscribe via RSS or email to get my new entries and more scrumptious recipes with reviews.