Rosemary Lemon and Carrot Loaf
This recipe derived from wanting to make something sweet (but not too sweet), to deliver on the healthy side of baking, while being gluten free & process ingredient free, though still featuring an interesting mix of flavours for a dessert.
Lemon is very common in my baking and I have used Rosemary in a few of my recipes in the past (see my Mandarin and Rosemary Cake – one of my favs), and carrot cake is quite a common favourite for many. So how is this recipe unique and different? These 3 flavours combine, though are super delicious and complementary of each other, are not typical at all.
Add in nuts, seeds and natural sugar (well honey) and you end up with a tasty dessert that will keep you satisfied while being friendly to your hips (well more so than standard baking treats that's for sure)!
For a bit more deliciousness I whipped up an easy and quick cream cheese based icing.
This recipe hits the dessert craving spot without the 'naughty' feeling.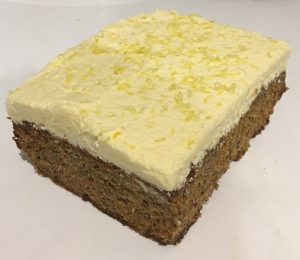 Loaf:
80g walnuts
80g almond meal
40g LSA
2 tbsn phylum husk powder
1 tsn baking powder
½ tsn salt
22g dried rosemary
60g chia seeds
2 carrots (a 130g carrot will produce 120g grated carrot)
2 eggs
4 tsn lemon infused olive oil (or normal EVOO)
2 tbsn almond milk
60g honey
2 tsn lemon zest
Frosting:
60g butter
60g cream cheese
1 + ½ tsn lemon zest
30ml honey
150ml cream
Method:
Pre-heat the oven to 180c degrees and line a loaf tin with baking paper.
Place the walnuts into a food processor and blitz until fine breadcrumb consistency.
Add the almond meal, LSA, psylium, powder, salt and rosemary to the food processor and pulse until well combine.
Pour the mix into a bowl and stir in the chia seeds.
In a separate bowl place the grated carrot, eggs, olive oil, honey and lemon zest, beat with a hand whisk until combine.
Pour the carrot mix into the rosemary mix and stir until well combine.
Spoon the loaf batter mix into the tin, flattening the mix with the back of a spoon to even the top.
Bake for 50 minutes or until a skewer inserted in the center comes out clean.
Allow the loaf to cool in the tin.
Meanwhile, make the frosting by whisking the butter, cheese, lemon zest and honey with electric beaters in a bowl until smooth and creamy.
In a separate bowl whisk the cream with electric beaters until soft peaks form.
Add the butter mix to the cream mix and beat until combine.
Remove the now cold loaf from the tin and top with the frosting, enjoy.
Step 3
Step 4
Step 6
Step 7
Step 9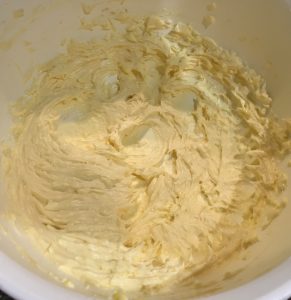 Step 12
Step 13
Like this recipe? Subscribe via RSS or email to get my new entries and more scrumptious recipes with reviews.